Tailor-made Tour

12 days from £4995 per person
Special Offer
Save £1,250 per person 
+ enjoy a host of special features & privileges
Transindus, UK's best-loved India Travel Specialist, has partnered with The Leela Palaces to bring you an extraordinary 12-day luxury tour with additional services to ensure the magic continues throughout your journey.
Offer valid for departure up to 30 September 2023
Places Visited:
Delhi, Agra, Jaipur, Udaipur, Mumbai
3 Stunning Destinations. | 3 Magical Palaces. | Experiences of a Lifetime
 Delhi - Jaipur - Udaipur
The ancient Indian tradition of treating 'each guest as God' is at the heart of every welcome at The Leela Palaces and each is determined to help you experience India at its luxurious best. It is no surprise they have been voted World's Best Hotel Brand for two consecutive years by Travel & Leisure, World's Best Awards.
Transindus, UK's best-loved India Travel Specialist, has partnered with The Leela Palaces to bring you an extraordinary 12-day luxury tour with additional services to ensure the magic continues throughout your journey.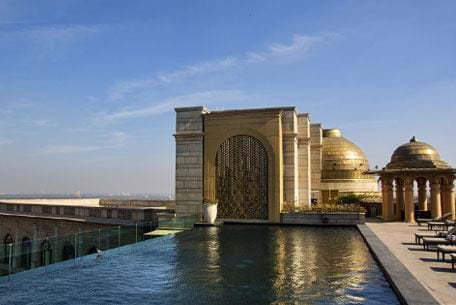 Holiday Types
Cultural Holidays Wildlife Holidays River Cruising Holidays Luxury Train Holidays Family Holidays Honeymoons Beach Holidays Adventure Holidays
Suggested itinerary
Day 1
London to Delhi
Fly from London to Delhi on the direct overnight service with British Airways or Virgin Atlantic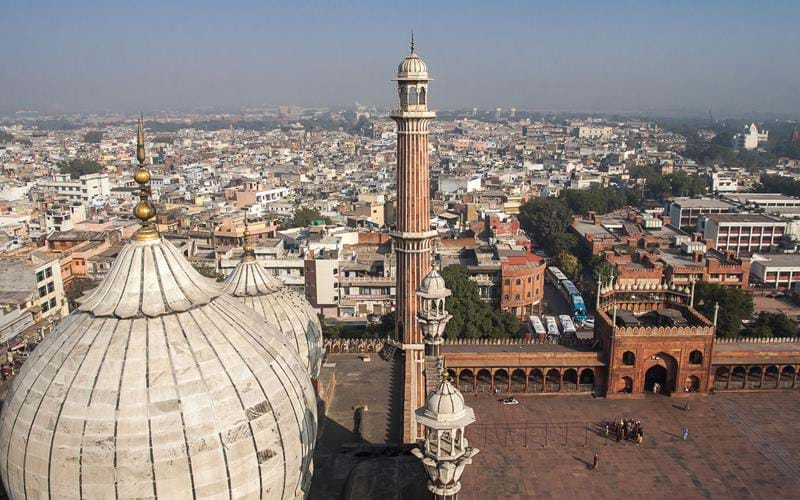 Delhi, India's capital, is a compelling mix of ancient and modern, it holds the vestiges of at least seven great urban centres One of the most evocative places to gets one's bearings has to be the Jama Masjid, the magnificent sandstone and white-marble 'Friday Mosque' constructed by Emperor Shah Jahan in Old Delhi. Climb one of its minarets for a matchless view over the surrounding roofscape to the ramparts of the Red Fort, where the Mughals held court in a hidden world of cusp-arched pavilions and pillared audience halls. From there, make the most of the city's clean, efficient metro to travel across town to the National Museum, with its priceless collection of Indian antiquities, and on to Delhi's southern fringes where the exquisitely carved Qtub Minar has dominated the skyline since 1202 AD.
Evenings may be spent listening to the infectious Sufi rhythms of qawwali at the shrine of Nizammuddin, souvenir hunting in the backstreets of Hauz Khas or dining in some of India's most sophisticated Mughlai restaurants.
Accommodation Options
Day 2
Delhi
On arrival in Delhi, you'll be met by your TransIndus guide and driver and transferred to your hotel for a two-night stay at Leela Palace Hotel in the Indian capital. Spend the remainder of the day recovering from your journey with a leisurely swim in the hotel pool. Energy levels permitting, you may wish to visit the Gurudwara Bangla Sahib, an atmospheric Sikh shrine a short drive from your hotel, in the late afternoon. Just let us know and we'll arrange it for you. Enjoy evening, you will be invited for cocktails, courtesy of the hotel, and offered a tour of the beautiful hotel and its gardens.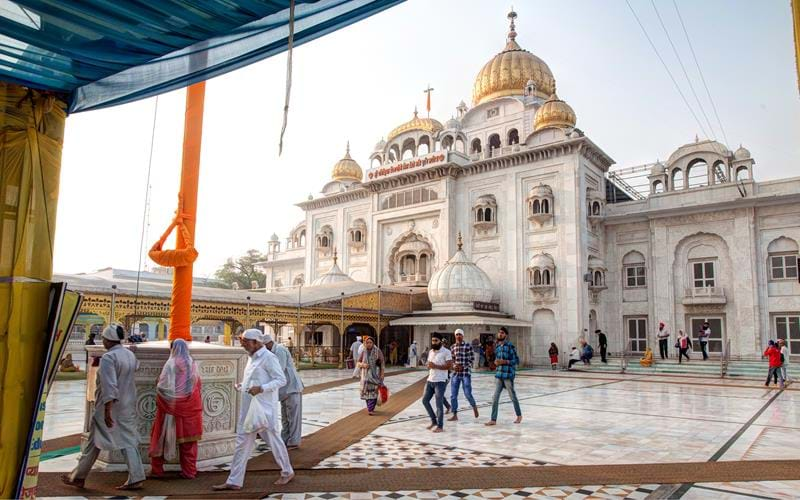 Made of white marble and crowned by a gilded onion dome, the Gurudwara Bangla Sahib and shimmering pool inside it are places of great sanctity for Indian Sikhs, and offer the most atmospheric introduction possible to the capital. The complex in its present form dates from the late-18th century and was constructed at a place associated with the eighth Sikh Guru, Har Krishnan. At a Langar, or 'canteen', in the temple, visitors and devotees are fed nourishing, free meals of chapatis and black dal by volunteers. If you're lucky, you may see groups of Akalis, members of a Sikh warrior sect, dressed in traditional ceremonial garb.
Accommodation Options
Day 3
Old Delhi
Fully refreshed, you will be escorted on a full day's sightseeing tour to explore the sites of Old Delhi, including the Jama Masjid mosque, the spice and silver bazaars of Chandni Chowk, and the Mughal-era Red Fort. We remain in the Old Quarter for a walking tour of the Old Delhi sampling many of the exceptional street food delights that come straight out of the pan to your place as you watch. On return to the hotel, you will be invited again for complimentary cocktails as a special courtesy for Transindus clients.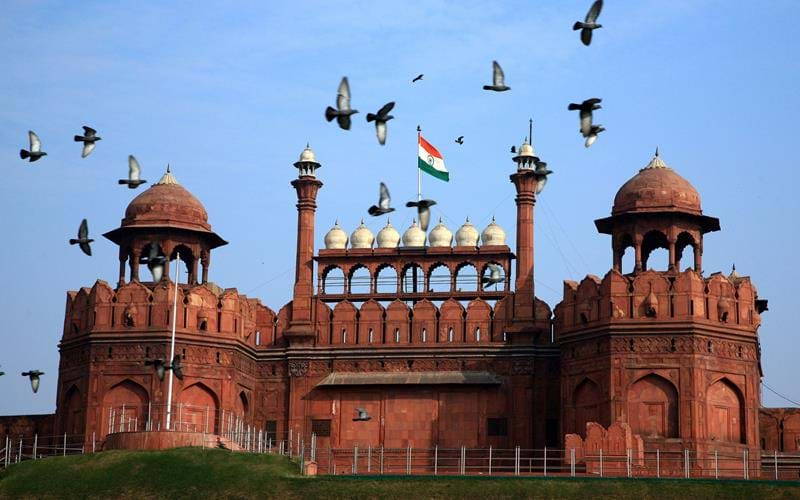 The narrow lanes of Old Delhi once formed the hub of the Mughal capital, formerly known as 'Shajahanabad' after the great Emperor Shah Jahan. Individual streets are given over to different trades in this atmospheric district and before setting off your guide will quiz you on your interests in order to choose the sights most likely to inspire, crafts workshops, or hidden architectural gems. Whatever your chosen itinerary, an obligatory stop should be the splendid Jama Masjid mosque, whose giant white domes dominate the skyline of the old city.
We have devised a tour based reflecting the cuisine of the former Mughal area Shahjahanabad', and now 'Old Delhi'. It is famous for specialties originally brought from Persia and Afghanistan by the Mughals invaders in the 16th century. Many are based around meat – melt-in-the-mouth lamb kebabs, cuts of chicken marinated in spices and baked in tandoor ovens, and mutton slow-cooked overnight in huge terracotta pots. Vegetarian dishes too are abundant and an absolute treat, straight from the pan.  
Accommodation Options
Day 4
New Delhi
Today, the mood of sightseeing changes significantly as you head into the colonial haunts of New Delhi including Lutyan's grand architectural masterpieces designed to overwhelm and subdue the locals. We also visit Humayun's Tomb, one of India's greatest early Mughal buildings, which stands in manicured gardens a little further south and maybe visited en route to the iconic Qutb Minar victory tower on Delhi's southern outskirts, the day's final stop. Early evening cocktails remain available to you each evening as a special courtesy for Transindus clients.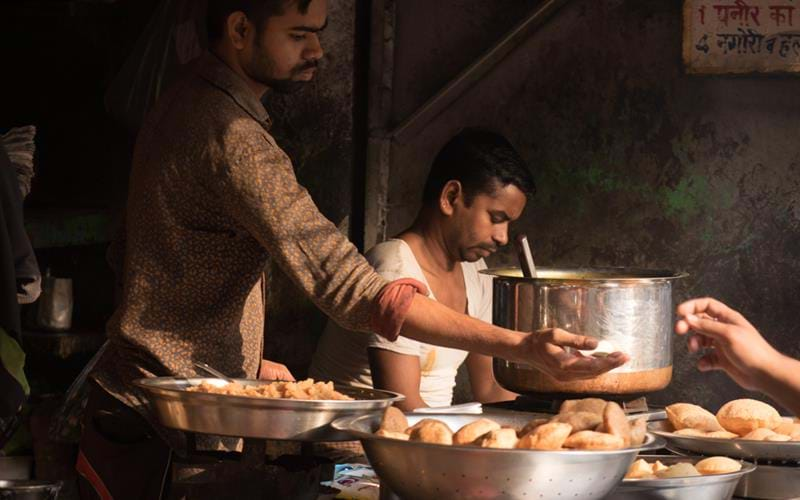 New Delhi Walks
One of the most popular ways to explore New Delhi is among TransIndus guests visiting Delhi these days are heritage walks around central Delhi. Run by the Salaam Baalak Trust, the walks are guided by former street children who, apart from showing visitors around the historic sights and backstreets, also give a vivid account of what life is like for disadvantaged youngsters in the area. Income from the scheme helps the NGO fund its shelter and outreach problem and provides a living wage and a much-needed boost to the self-esteem of the enthusiastic young guides.
Accommodation Options
Day 5
Agra- Jaipur
Early this morning you will be transferred to the hustle and bustle of New Delhi Railway station to board the Gatimaan Express (0810 - 0950 hrs) for a visit to the iconic Taj Mahal. After lunch, you hop on board the Agra-Ajmer Super Fast Express to Jaipur, The Pink City, for a glorious 3-nights stay at Leela Palace in a Royal Villa with plunge pool. You will be invited on a tour of the palace by yoru host follwed by a galss of wine.
In over 30 years of creating holidays to India, we've never come across anyone who wasn't enthralled by their first glimpse of the Taj Mahal. The gleaming white-marble mausoleum is without a doubt worth the price of a ticket to India alone and continues to astonish all who set eyes on it.
'A teardrop on the face of Eternity' is how the Bengali mystic poet, Rabindranath Tagore, famously described the Taj Mahal. Built-in the mid-16th century by the Mughal emperor Shah Jahan for his beloved wife Mumtaz, the mausoleum possesses an ethereal beauty that's somehow undiminished by the crowds who spill through its gateway each day. View it through the delicate haze of early morning, when mist swirls from the adjacent Yamuna River or, best of all, under a full moon, reflected in the ponds lining the approach paths.
Accommodation Options
Day 6
Jaipur
Begin your day's sightseeing with a trip out to Amber fort to visit Rajasthan's most splendid fortress palace, whose ochre walls rise from a craggy hill half an hour's drive north of Jaipur city. After lunch, spend the warm hours of the afternoon relaxing by the pool and early evening join your hosts for high tea in the gardens of the palace. Your invitation to cocktails remains open as a special courtesy for Transindus clients.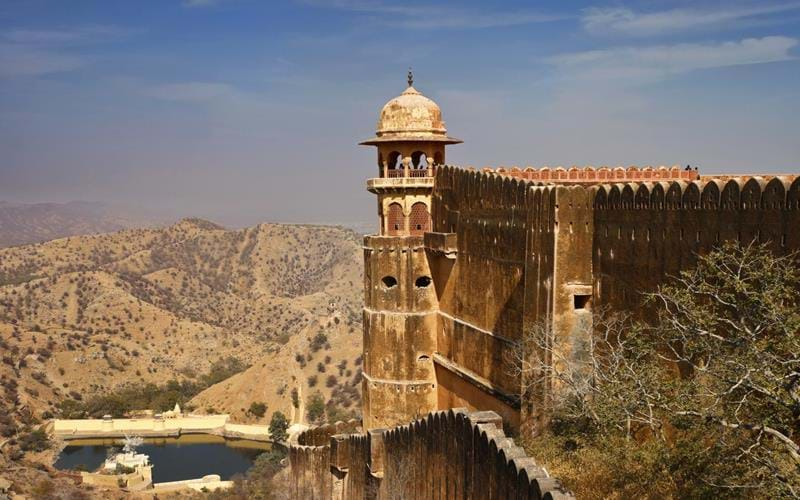 Perched on the rim of a dramatic escarpment, Amber Fort retains some of the finest interiors surviving from the 16th and 17th centuries in India, notably a glittering Hall of Mirrors lined with intricate mosaics, where the Maharaja and his consorts would enjoy music and poetry recitals.
Jaipur offers some of the best shopping in India and you may wish to include a guided tour of its top textile showrooms, fashion boutiques and jewellery shops in your afternoon's programme. We particularly recommend Anokhi's flagship Prithviraj Road store, which specializes in traditional, block-printed Rajasthani textiles, which Anokhi's designers transform into gorgeous garments. If inclined your guide will also be able to suggest private jewellers & emporia where you could commission handcrafted custom pieces in silver or platinum using top of the range stones – from lapis lazuli and amber to emeralds, rubies, sapphires, aquamarine and diamonds – for delivery overnight while you enjoy Jaipur.
Accommodation Options
Day 7
Jaipur
We invite you to join your guide on an early morning walking tour of Jaipur's Old Quarter and markets, including the fruit, vegetable, and flower markets. You return to the hotel for a sumptuous and earned breakfast before heading back out for a tour of the grand City Palace complex and its numerous, highly significant sites. Late afternoon enjoy a cooking experience with a local family in their home, using the information gleaned from your earlier visit to Jaipur's fruit and vegetable markets.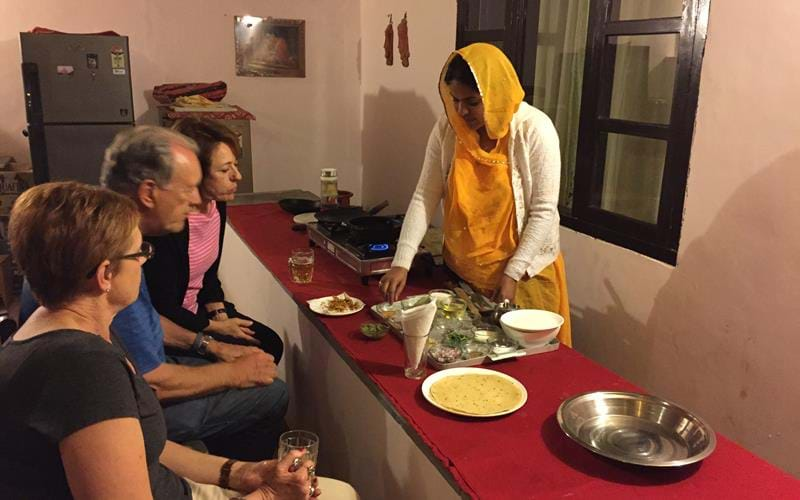 During this fun cooking class, ij the home of your instructor you'll get a hands-on experience of every step in the preparation of delicious Rajasthani recipes.  A fusion of traditional vegetarian Indian dishes with influences of the rich meat-based dishes of the region's Mughal rulers, you will learn about the ingredients and spices used to create the array of flavors. The lesson will be followed by a meal, in which you can eat your creations as well as dishes prepared earlier by your instructor.
Accommodation Options
Day 8
Jaipur - Udaipur
After breakfast, this morning, travel across the country through beautiful countryside and past villages and rural villages as you head for Jaipur, India's most romantic city. Its beautifully tiered ghats (sacred steps), whitewashed Havelis, and temple towers encircle the shimmering shores of Lake Pichola while the Lake Palace, Jag Mandir and Jag Niwas palaces float on the glassy surface of the lake. Overseen by the pale-ochre walls and domes of the exquisite City Palace, the Udaipur has to be visited to be appreciated. 3 nights at Leela Palace staying in a Grand Heritage lake view room with balcony. Early evening cocktails remain available to you most days before dinner as a special courtesy for Transindus clients.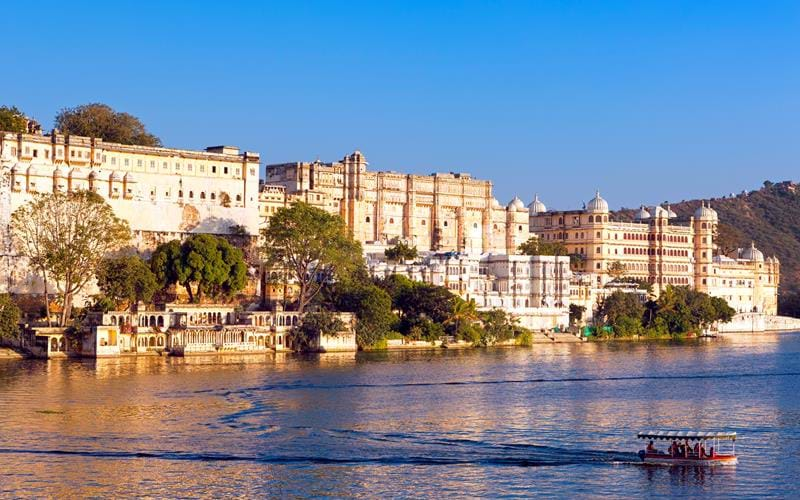 Udaipur's City Palace, seat of the Sisodia Dynasty, holds a feast of Rajput architecture and yields magnificent views over Pichola Lake to the Aravallis. After visiting its museums, apartments and courtyard gardens, wander down to the Jagdish Temple nearby before heading into the old city to explore the markets in the company of your TransIndus guide. Late afternoon is the time to be at the water's edge, soaking up the sunset colours and unique atmosphere of this romantic city.
Accommodation Options
Day 9
Udaipur
Morning head out to explore the city's royal palace with its museum, nearby temples, ghats, and royal gardens. You return to the hotel where lunch will be hosted by the Leela Palace, who will also be delighted to show you around the palace. After a relaxed afternoon, you may wish to join the team for early evening cocktails too.
Udaipur also boasts a bumper crop of breathtakingly beautiful palace hotels, and these provide regal bases for day trips to the many monuments scattered among the nearby Aravalli Hills, which include an eagle's nest Monsoon Palace – one of Rajasthan's great viewpoints – and a lively folk village, where top artisans from across the northwest gather to sell their wares, while troupes of musicians and dancers perform in front of reconstructed Rajasthani houses.
The city is also justly famous as one of the best places in Rajasthan to shop for souvenirs that range from silks to silver, wood carvings to block print textiles, and much more.
Accommodation Options
Day 10
Udaipur
You have the full day at leisure and pampering with a yoga session or spa treatements followed by a day of relaxation by your elegant poolside. For the more adventurous there are options to venture into the countryside to spot Leopard in the wild or enjoy horse riding through nearby villages on the famous Mewari horses. Your complimentary cocktails will be awaiting your return.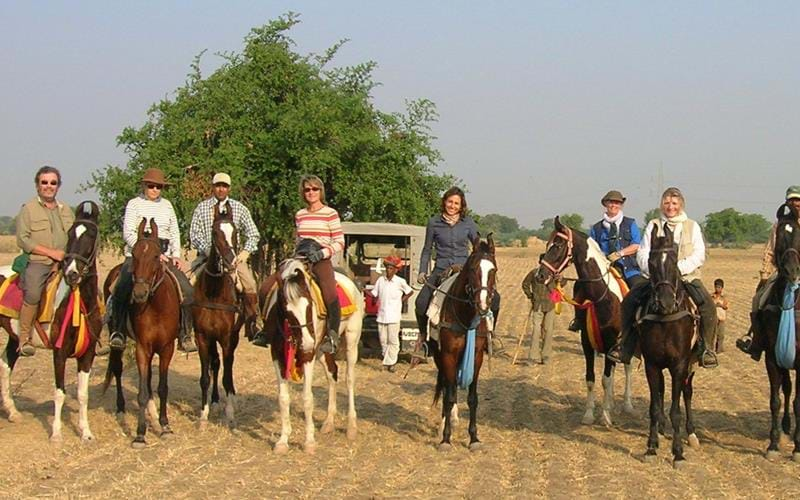 Horses have played a major role in the culture of Rajasthan for over a thousand years. In the 11th and 12th centuries, local rulers developed a distinct breed from a mixture of desert ponies and Arabian stallions. Known as the 'Marwari', it was famed for its resilience and courage in battle and later formed the mainstay of the 50,000-strong Mughal cavalry.
The breed fell out of favor in British times, but after Independence saw a revival as many aristocratic Rajput families began breeding programmes. Today, numerous stately homes retain stables of Marwaris, distinguished by their inward-turning ear tips and free-flowing gait. The horses make perfect mounts for rides in the flat, arid scrubland of Rajasthan.
Accommodation Options
Day 11
Udaipur - Mumbai
Following an early breakfast, you will be collected from the hotel for a short flight to Mumbai. On arrival, you will be met by a guide who will escort you on an orientation tour of the city including The Gateway to India, the Old Taj mahal Hotel, Victoria Terminus at Churchgate, and other sites. Your guide will be happy to stop at any sites you may wish to explore in more detail. We suggest you enjoy lunch at Mumbai's famous Leopold cafe in the Jewish district before heading to your hotel for the night.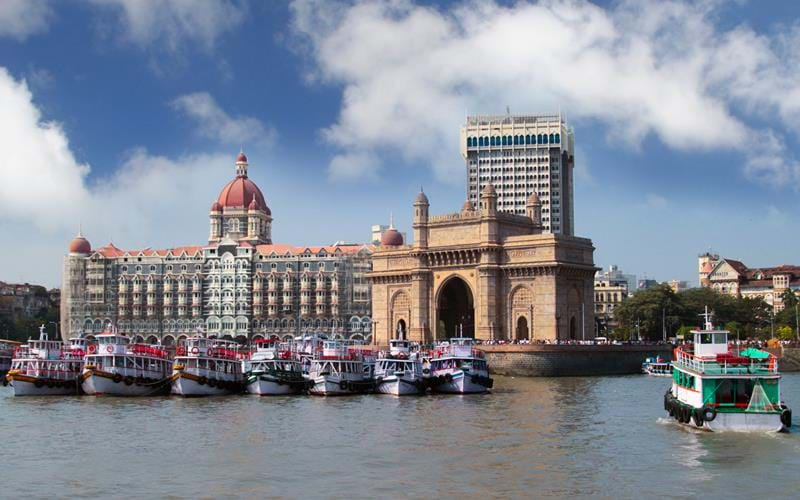 Mumbai has been India's busiest port and industrial centre since the opening of the Suez Canal in 1969. As famous today for its traffic jams as its record-breaking movie industry, the Maharashtrian capital tends not to feature high up most visitors' 'must see' list, but as a point of arrival has a lot to recommend it.
Before the last British troops garrisoned in the country slow-marched past it to board their ships back to Blighty in 1947, the Gateway of India – a huge triumphal arch in the colonial Indo-Saracenic style – was the first landmark most new arrivals from Britain set eyes on. The second was the famous Taj Mahal Hotel beside it. Both still stand tall on the waterfront, as emblematic of the city today as they were in Victorian times.
Accommodation Options
Day 12
Mumbai - London
This morning you will have another early start as you are transferred to the airport for your return flight home, arriving back at Heathrow the same day.
Tailor-made Tour

12 days from £4995 per person
What's included
Direct international flight to/from India

Luxurious palace accommodations for 10-nights

Ceremonial arrival ceremonies at each palace

Complimentary Cocktail hour daily

Complimentary art tour of the palace with wine

One experiential dinning dinner experience during your stay 

Complimentary wi-fi

25% savings on spa treatments & in-room dining
Places and Experiences in this tour
Plan your Next Adventure
With the world now largely open again, now is the time to begin planning your next adventures in Asia. Our Travel Specialists are ready to take your call and discuss the adventure you have spent the last 3 years dreaming of.
Or call us on 0208 566 3739
TransIndus Brochures 2023
Join our mailing list