Group Tour

11 days from £2435 per person
Places Visited:
New Delhi, Pench, Kanha, Bandhavgarh, Delhi
Join TransIndus on a trip to the wild heart of India. Covering three of the country's most remote and beautiful national parks, this special group tour will give you the best possible chance of sighting tigers, as well as other magnificent and rare animals, including leopard, nilgai ('blue bulls'), bison, sloth bears, civet and pangolins.

Travel with us on a luxurious journey deep into India's untrammeled interior – domain of the world's most adored and endangered creature, the Royal Bengal tiger.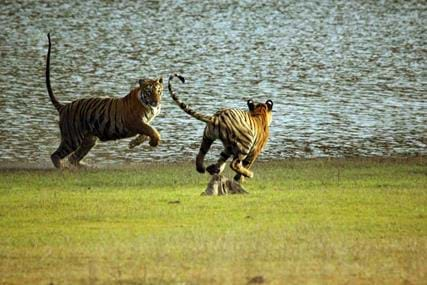 The trip includes a total of twelve game drives, in state-of-the-art vehicles with an expert in the company of one of India's most sought-after naturalists and guides who will remain with the group throughout the journey.
Between safaris, you'll be sleeping in ethnic cottages or tented suites. Each of the properties featured have plenty of relaxing spaces from where you can savour the sounds, sights and great tranquility of the surrounding forest. Prepared by top-notch chefs and served under the stars on atmospheric, lantern-lit terraces, meals are another highlight of this trip.


Holiday Types
Cultural Holidays Wildlife Holidays River Cruising Holidays Luxury Train Holidays Family Holidays Honeymoons Beach Holidays Adventure Holidays
Travel Arrangements
Group Size

4 - 16

Internal Travel

All internal transfers and game drives

Accompanying Guide

English-speaking naturalist/guide throughout

Accommodation

Accommodation (10 nights) in luxury resorts & lodges

Meal Plan

Bed and Breakfast in Delhi, National Parks on Full Board
Itinerary for Land of Tigers
Day 1
Delhi
On arrival, the group will be met by TransIndus's representative in Delhi and escorted to The Claridge's hotel, where we'll stay for one night. Spend the remainder of the day recovering from the journey, perhaps venturing out later for a stroll around the nearby Lodi Gardens.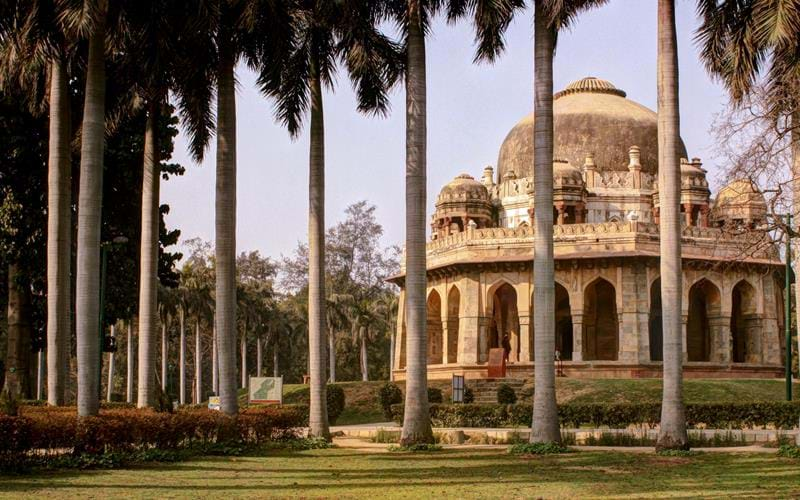 One of the most atmospheric locations in the Indian capital, the Lodi Gardens enclose the domed tombs of three Sultans who ruled Delhi before the arrival of the Mughal dynasty, in the 15th and 16th centuries. Their architecture was inspired by that of the Timurids from Central Asia, but incorporates distinctively Indian features, creating a wonderfully exotic spectacle, especially in the warm light of late afternoon – in short, the perfect place to find your feet.
Accommodation Options
Day 2
Pench
After breakfast transfer to the airport, for a morning flight to Nagpur. Travelling onwards from there to Pench National Park. Stay at Pench Jungle Camp or similar for two nights. In the evening enjoy an introductory talk on the local flora and fauna, followed by supper.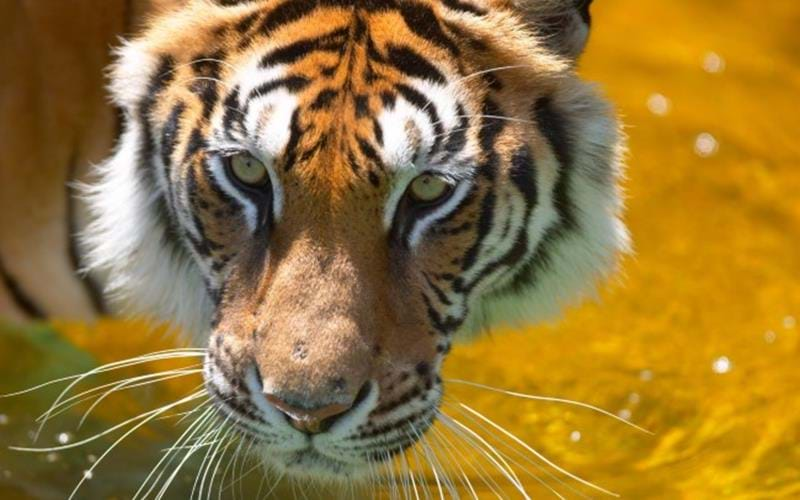 Pench straddles the southern border of Madhya Pradesh and northern border of neighbouring Maharashtra – a wild, and little visited tract of central Indian countryside bisected by the Pench River. Teak rather than sal dominates the forest here, creating a different atmosphere from the reserves you'll be visiting later on this tour. The tiger population is stable and sightings occur more or less daily– although not for everyone. You're more likely to come across packs of wild dogs and striped hyena, and the odd gaur (bison) lumbering through the forest.
Accommodation Options
Day 3
Pench
Morning and afternoon game drives account for most of your third day on tour, with a screening of a wildlife documentary in the evening before supper. Between safaris, enjoy the luxury facilities of the camp, which include a large, oval pool screened by stately old mahua and teak trees.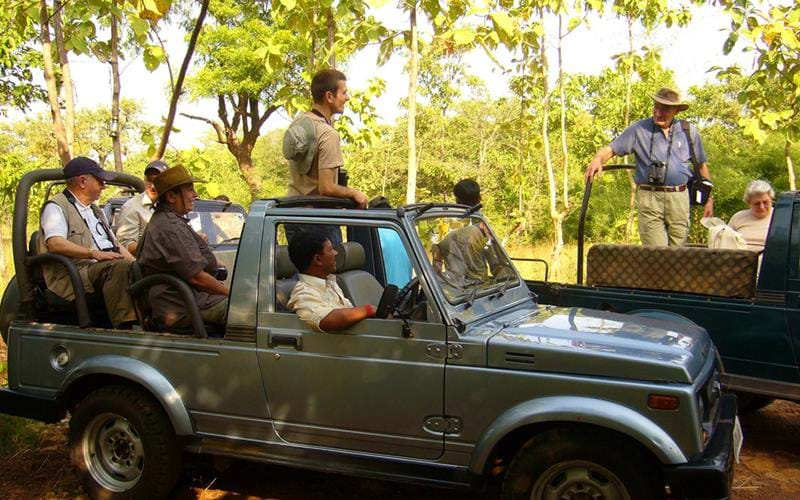 With its miles of teak and bamboo forests, and open maidans of tall, bleached grass, the landscape of Pench National Park is straight off the pages of Rudyard Kipling's Jungle Book. The reserve is home to 39 species of mammals, 13 types of reptile and over 170 varieties of birds, including barbets, bulbul, minivets, orioles, wagtails, munias, flycatchers, waterfowls and blue kingfishers, many of which can be seen in the camp's own grounds, or from the comfort of your own verandah.
Accommodation Options
Day 4
Kanha
A final game drive at Pench in the morning, followed by a long journey northeast to Kanha National Park in the afternoon, a journey time of approximately five hours. We'll spend three nights at Kanha Jungle Lodge. The drive is a scenic journey and a great way of seeing rural Indian life.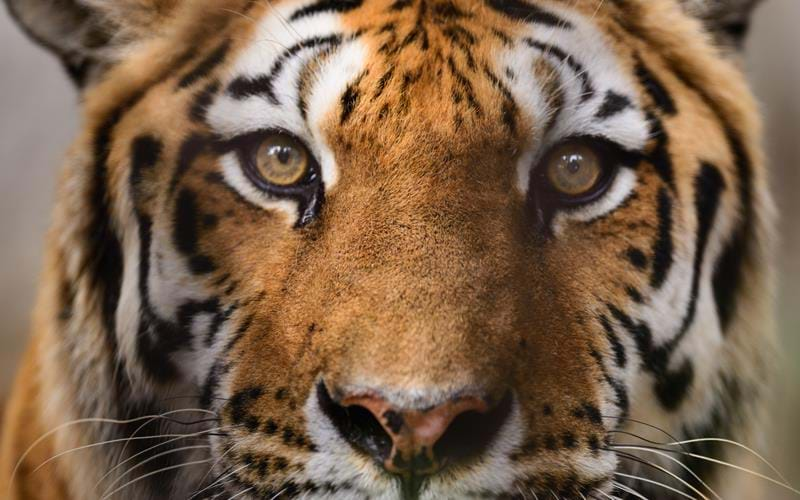 Wildlife is prolific at Kanha, with an estimated 200 tigers in residence. The long grass of the park's maidans (grassy open spaces once occupied by tribal villages) provides perfect grazing for the sambar, chital and other deer and antelope on which the cats prey, and the odds of a sighting are high.  If a tiger is tracked by the park wardens after making a kill, guests at Kanha may ride on elephant to the place where it is hiding out, digesting its breakfast (usually in long grass) – a wonderful experience as you can usually view a cat at close quarters this way. The rest of day will consist of the regular Jeep drives through the park's Buffer Zone.
Accommodation Options
Day 5
Kanha
Your first full day at Kanha features morning and evening safaris, beginning at 5am (an earlier start than usual is recommended in order to get the paperwork done and gain a head start on other vehicles entering the park) and at 2.30pm.
Your hosts at Kanha Lodge have a passion for wildlife. Tarun, the lodge Manager, has an encyclopedic knowledge of wildlife whilst his wife, Dimple, was the first person to write a book on the wildflowers of Kanha.  She often takes guests for a nature walk around the property pointing out the colourful birds and butterflies and in the evenings, shares her knowledge of the night sky.  The youngest member of the family, is a real life Mowgli. Born and raised at the lodge, this young boy is often seen exploring the jungle, learning tracking skills and identifying the flora and fauna.
Accommodation Options
Day 6
Kanha
Enjoy another safari in the morning. In the afternoon, the group will have the choice between a second game drive, visiting the local village, or relaxing in the lodge.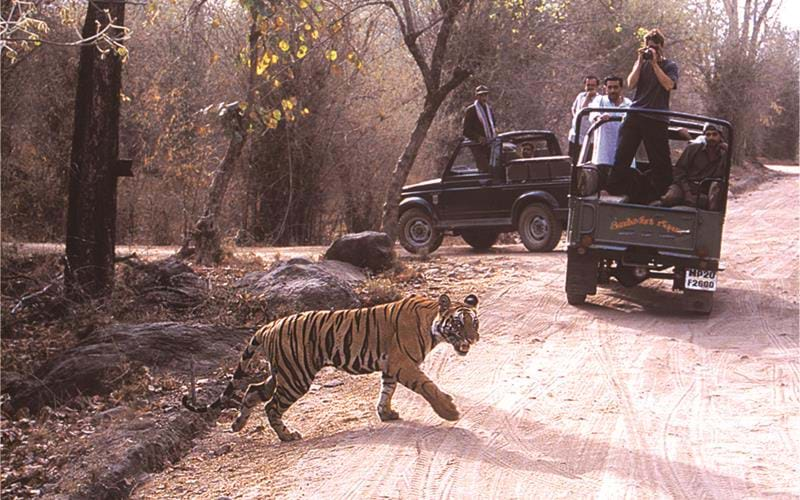 Cookery lessons and sari demonstrations are just some of the activities on offer at the lodge. Most guests enjoy a walk around the grounds where you can focus on the colourful birdlife, butterflies and insects.  If you head towards the river you may see even see elephants bathing, a wonderful sight as they splash and spurt water through their trunks.
Accommodation Options
Day 7
Bandhavgarh
After an early breakfast, the group will travel to Bandhavgarh National Park, a journey time of approximately six hours. Arrive in time for lunch and an afternoon safari. This is the largest of the three parks we visit. It boasts a wide variety of animals including sloth bear, antelope, several varieties of monkey and an array of birdlife. Stay three nights at the Bandhavgarh Jungle Lodge (Jan-Apr 2020 Tiger Trails Bandhavgarh).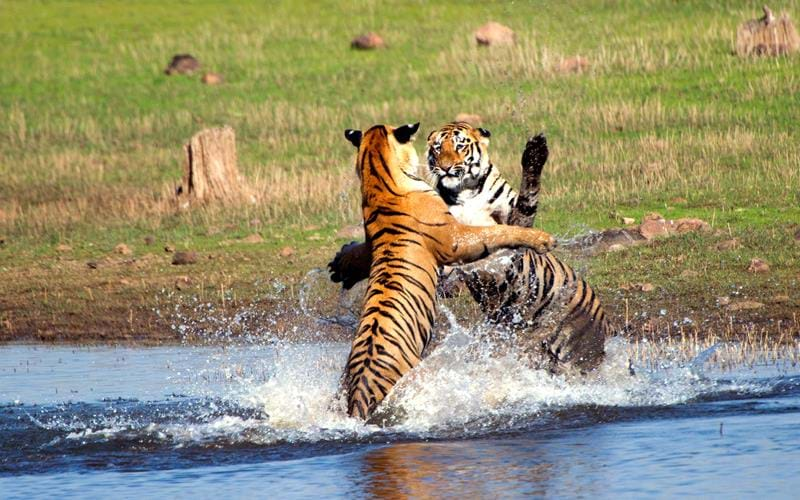 Bandhavgarh is situated in the craggy Vindhya hills, where the local sal forests and grassy maidans inside the reserve host a wide array of wildlife: spotted deer, blackbuck, wild bison (gaur), sloth bear, sambar deer, nilgai and barking deer are commonly sighted, while chances of seeing a leopard or tiger are as strong as anywhere in India. The area also supports a rich and varied bird population, from vibrant golden orioles and parakeets to hornbills and partridges.
Accommodation Options
Day 8
Bandhavgarh
Enjoy morning and afternoon drives in the park again today, the first from 6–10am and second, 3–6pm approximately (timings varying according to sunrise and sunset).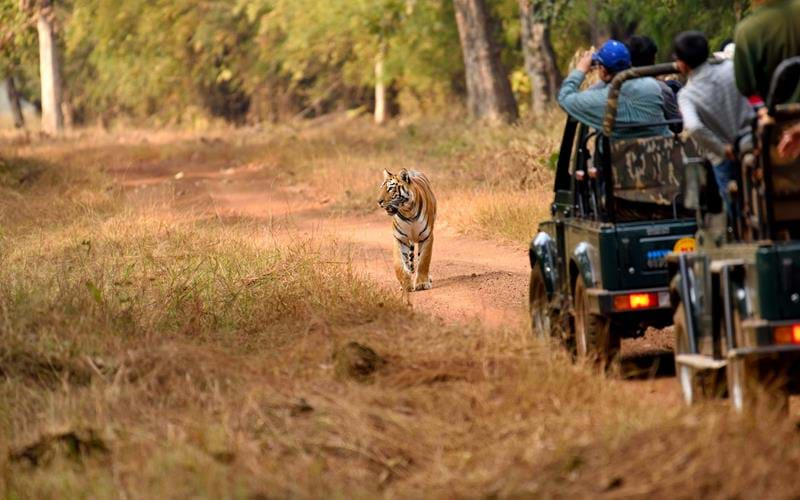 Boasting one of the highest tiger densities of any park in India, Bandhavgarh has an outstandingly high rate of big cat sightings. There are plenty of youngsters coming through, including a trio of cubs who survived the death of their mother in 2017 (due to a territorial dispute with another female) when their father began feeding and protecting them – unusual behaviour in tigers. According to the last census, around 50 live in the park, the majority of them in the core zone.
Accommodation Options
Day 9
Bandhavgarh
Your final day of park safaris begins with the usual early morning wake-up call at around 5.15am, when a tray of 'bed tea' will be brought to your cottage. Breakfast will be served in the park during the drive.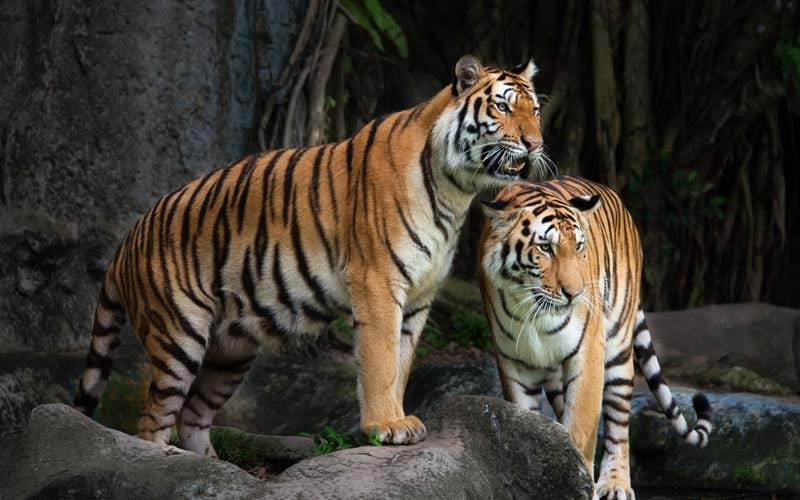 Hopefully you'll have had plenty of great sightings in this park, and those preceding it on the tour, but if not, today will be your last chance, so fingers crossed! Rest assured you'll be in safe hands, guided by expert naturalists who know the terrain and its tigers inside out, and who will be able to ensure the best odds of an encounter.
Accommodation Options
Day 10
Bandhavgarh - Delhi
Depart for Jabalpur airport, where we'll catch a flight back to Delhi. Stay at Pride Plaza Aerocity or similar for the night.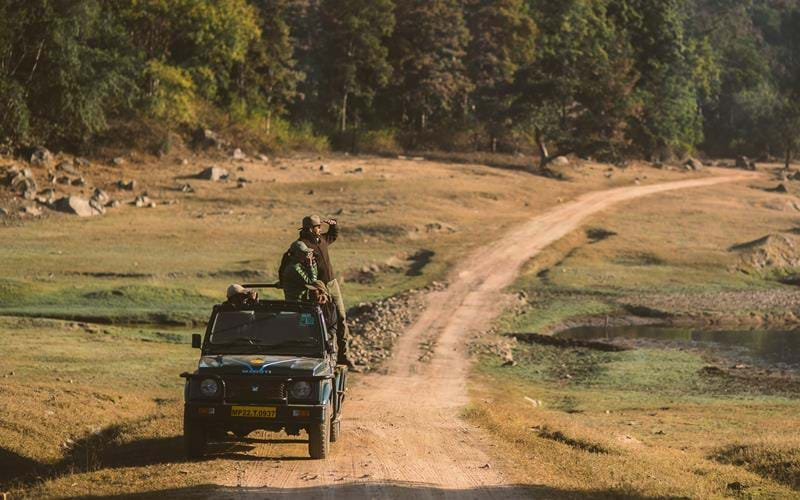 Then depart for Jabalpur Airport, a transfer time of approximately four hours, where we'll catch a flight back to Delhi. Stay at Holiday Inn Aerocity or similar for the night.
Accommodation Options
Day 11
Delhi
After breakfast, transfer to Delhi international airport for your return flight to the UK.
Group Tour

11 days from £2435 per person
What's included

✓   Accommodation (10 nights) in luxury resorts & lodges
✓   Internal transfers
✓   12 Game Drives in three National Parks
✓   Accompanied throughout by an English-speaking naturalist/guide
✓   Meal Plan: Bed and Breakfast in Delhi, National Parks on Full Board
Holiday Extensions for this tour

Land of Tigers - Golden Temple Amritsar
4 days, 3 nights from £395 per person
Single supplement £ 185 per person
view itinerary
Day 11
Delhi - Amritsar
Take the early morning Shatabadi Express (5 hr train journey) to Amritsar for a two night stay at the Holiday Inn. Your afternoon will be at leisure.
Accommodation
Day 12
Amritsar
Visit the Golden Temple complex, one of the holiest shrines of the Sikh faith and Jallianwala Bagh. In the afternoon drive to the Wagah border to see the indulgent joint 'retreat' ceremony of the Indian and Pakistani guard.
Day 13
Amritsar - Delhi
Fly back to Delhi. On arrival, transfer to an airport hotel for the night.
Day 14
Delhi
Transfer to the airport for your flight home.

Land of Tigers - Beaches of Goa
4 days, 3 nights from £695 per person
Single supplement £ 445 per person
view itinerary
Day 11
Delhi - Goa
Fly from Delhi to Goa, arriving mid afternoon. Transfer to the Holiday Inn or similar (upgrades available) for three nights.
Accommodation
Day 14
Goa
Transfer to the airport for your onward flight.

Land of Tigers - The Taj Mahal
2 days, 1 nights from £295 per person
Single supplement £ 185 per person
view itinerary
Day 11
Delhi - Agra
Take the early morning express train to Agra. Spend the day in Agra visiting the Taj Mahal, the impressive Agra Fort whose buildings, made of red sandstone and marble, are a mix of Hindu and Islamic architecture and the ornate tomb of Itamud-ud-Daula. Return to Delhi by train and stay at the Pride Plaza Aerocity or similar.
Day 12
Delhi
After breakfast transfer to the airport for your return flight home.
2024 tour prices for Land of Tigers
| | | | | |
| --- | --- | --- | --- | --- |
| DEPARTURE DATE | PRICE PER PERSON | SINGLE ROOM supplement | AVAILABILITY | |
| Sun 14 Jan 2024 | £2595 | £735 | Please call us | |
| Sun 11 Feb 2024 | £2595 | £735 | Good | |
| Sun 10 Mar 2024 | £2595 | £735 | Good | |
| Sun 07 Apr 2024 | £2595 | £735 | Good | |
Make an enquiry
Places and Experiences in this tour
Plan your Next Adventure
With the world now largely open again, now is the time to begin planning your next adventures in Asia. Our Travel Specialists are ready to take your call and discuss the adventure you have spent the last 3 years dreaming of.
Or call us on 0208 566 3739
TransIndus Brochures 2023
Join our mailing list