Group Tour

12 days from £1775 per person
Places Visited:
Cochin, Thattekad, Munnar, Periyar National Park, Alleppey, Varkala
We were among the very first operators to offer group tours to Kerala, way back in the early 1990s, and continue to devise the most innovative and compelling itineraries on the market – as this tour vividly demonstrates. Designed for the active traveller looking to experience not merely the main sights, but some authentic, offbeat ones as well, it takes you from the coast to the mountains and back via a birding safari by kayak on the Periyar River, an ascent of the region's second highest peak, a couple of nights at remote tea plantation only accessible for 4WD, and a wildlife trek in the forests of the interior led by a tribal tracker.
You'll also get to enjoy the state's more conventional tourist experiences, such as a rice boat cruise in the backwaters and a sunset jaunt around Cochin harbour. And as with all our Group Tours, accommodation is never less than luxurious, and superb value for money.


Holiday Types
Cultural Holidays Wildlife Holidays River Cruising Holidays Luxury Train Holidays Family Holidays Honeymoons Beach Holidays Adventure Holidays
Travel Arrangements
Group Size

4-12 people

Internal Travel

Arrival & departure transfers. Internal travel by road and rail

Accompanying Guide

English-speaking guides and naturalist. Accompanying tour escort when minimum group size achieved

Accommodation

10 nights

Meal Plan

Breakfast daily. Lunch on days 2 to 6, 8, 9. Dinner on days 3 to 6 & 9
Itinerary for Kerala Adventure
Day 1
Cochin
Greeted on arrival in Cochin and escorted to The Secret Garden Hotel or similar for two nights. Take sunset cruise in the harbour, a signature Kerala experience for views of the Marine Drive as well as the landmark Chinese fishing nets, which provide a spectacular photo opportunity at dusk.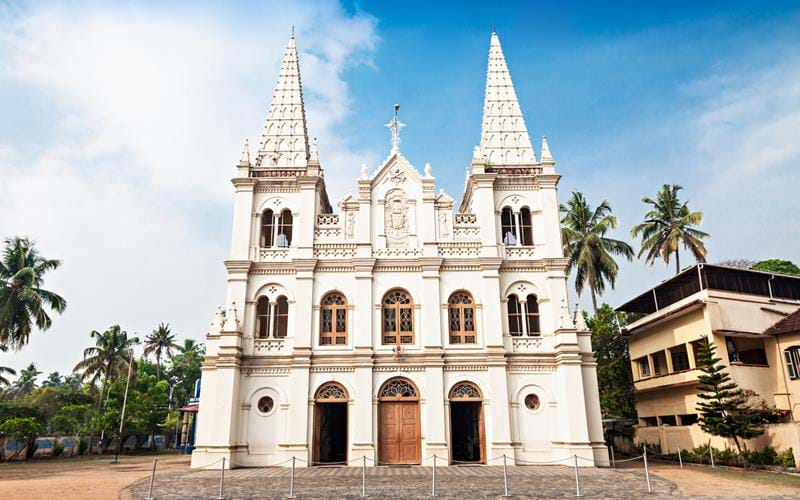 For centuries the hub of India's spice and tea trade, Fort Cochin occupies the northern tip of a peninsula dividing the mouth of the Vembanad Lake from the Arabian Sea. Its red-tiled skyline bears the imprint of its former colonial residents: Lusitanian chapels, Jewish synagogues, Dutch burghers' houses, Armenian mansions, and British bungalows and godowns (warehouses) all survive in the Fort's grid of narrow lanes – the largest collection of early colonial buildings in Asia. You'll get a picture-postcard view of the waterfront, with its iconic Chinese fishing nets, during the harbour cruise in the evening.
Accommodation Options
Day 2
Cochin
Tour historic Fort Cochin in a three wheeled auto rickshaw in the morning. Explore the colonial streets and take in the Dutch Palace with its murals of the Ramayana and St Francis, the oldest church in India. Visit the Kumbalangi village, in the afternoon, where you will have the change to interact with fisherman as they demonstrate local techniques used to harvest prawns, crabs, oysters and small fish.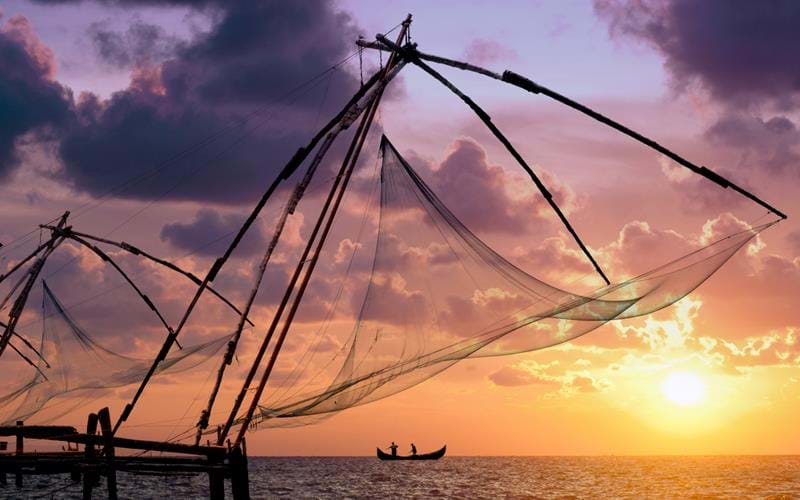 Your three-wheeler tour of Cochin's landmarks will begin at the beautiful Dutch Palace in Matancherry, famed for its traditional Keralan murals, followed by a visit to the old Synagogue in nearby Jew Town. This district holds several huge, and very well stocked, antiques emporia that are well worth a browse.
After lunch the group will be driven to the southern edge of Ernakulam and transferred to a punted boat for the 20-minute crossing to Kumbalangi, a pretty backwater village. You'll be shown around a crab farm, a workshop where coconut husk is processed into coir, a spice plantation and palm-leaf weaving factory, and see a large Chinese fishing net in action.
Accommodation Options
Day 3
Cochin, Thattekad
Today the tour heads a couple of hours inland to Thattekad, a famous bird sanctuary on the Periyar River. Check-in to the Birds Murmur Camp for an overnight stay. The afternoon is at leisure with opportunities to go on a birding walk or take a kayak trip across the river.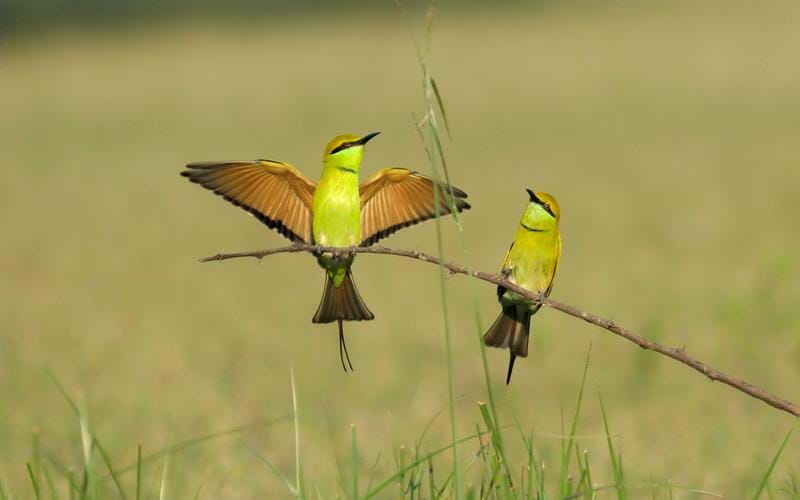 At the foot of the Western Ghat mountain range, sandwiched between two tributaries of Kerala's mightiest river, Thattekad encompasses a tract of former rubber plantation where an astonishing 275 species of bird have been recorded. In a typical day here, you can expect to notch up between 80 and 100, but even if you're not an avid ornithologist, the deep flowing river, tropical forest and abundance of wildlife provide an uplifting stopover between the coast and high ranges. One of our favourite luxury hideaways in this area, Hornbill Camp, will be your night halt. Accommodation is provided in spacious, handsomely furnished tents with their own bathrooms, balconies and air-conditioning units. The camp's staff are experts on the local flora, fauna and birdlife, leading walking tours, canoe trips and cycle rides around the reserve if desired.
Accommodation Options
Day 4
Thattekad, Munnar
Drive to Munnar (4 - 5 hours) for a three-night stay at the Fragrant Nature Resort or similar. Remainder of the day is at leisure to enjoy the surroundings or take one of the many walks available in the area.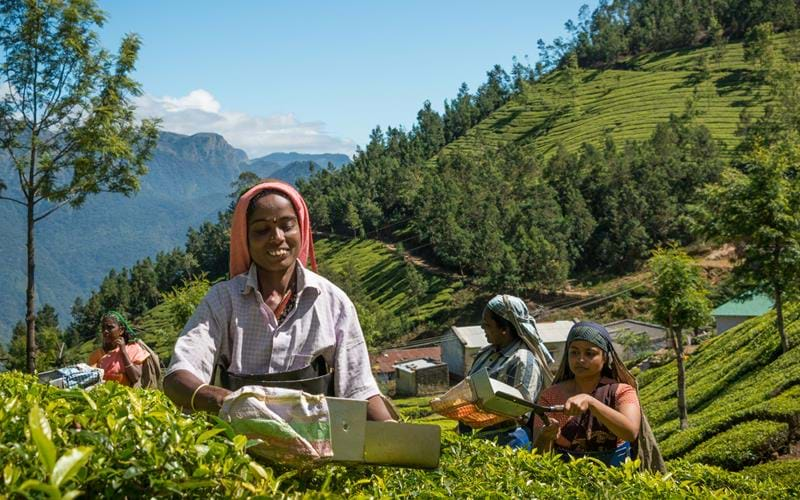 At an altitude of 2,170m (7,130ft), Kolukkumalai presents a total change of climate and atmosphere. Nights are cool and daytime temperatures close to those of a typical British summer. The tea plantation – the last ever founded by the British in India –  lies miles off the main road and the far reaching views, tranquility and sense of space are glorious. After a restorative pot of home-grown tea, the group will tour the old factory, with its Heath-Robinson-esque machinery and rickety wooden staircases steeped in the aroma of fermenting tea leaves and engine oil. Steel girders punch-marked '1933 Lanarkshire' hold the place together! Your room for the night will be in a restored pluckers bungalow nearby, from where the vistas across the valley are spellbinding.
Accommodation Options
Day 5
Munnar
Take a four-hour hike with a naturalist and guide through tea estates and villages. Visit the tea factory which is reputed to be amongst the highest in the world that produces tea using orthodox processes from the times of the British Raj.
As you climb through the lush tea groves of the estate, you'll pass gangs of smiling tea pluckers at work (or tucking into tins of rice and dal for breakfast!). Along the way look out for daisies and other familiar survivors of long-disappeared memsahibs' bungalow gardens bobbing in the breeze. Following well-trodden paths through mostly short grass, the mountain ascent is moderately strenuous – comparable to that of a low fell in the Lake District – and takes around 2 hours. Weather permitting, you'll be rewarded with stupendous views over the valley below. Enjoy a picnic lunch at the top before descending.
Accommodation Options
Day 6
Munnar
A full day moderate trek to Meesapulimala, one of the highest peaks in southern India, with picnic lunch (1 hour 30 mins by jeep off road each way / the trek takes about 5 hours)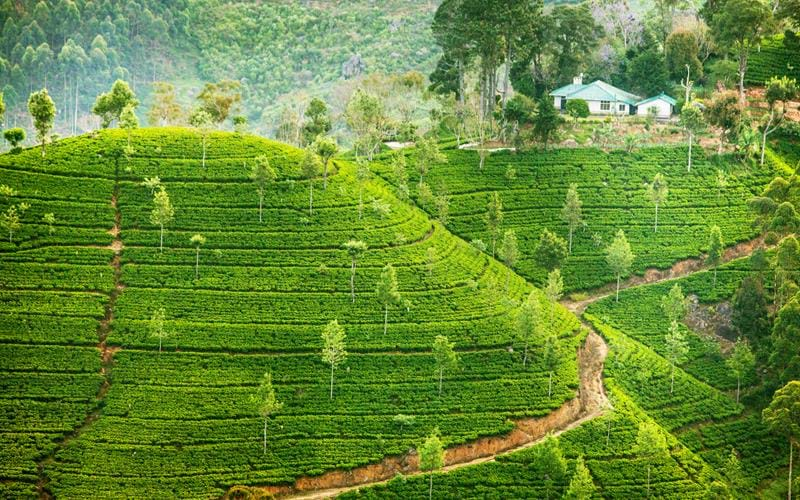 As the old shola forest was cleared and tea estates established in the Western Ghat mountains through the 19th and early 20th centuries, bunaglows were constructed for the British estate managers and their families to live in, and these provide wonderful bases from which to enjoy to distinctive atmosphere of the high range. Set amid lawned gardens, with deep pillared verandahs and superb views over the terraced valleys below, the one you'll be staying perfectly recaptures the pre-Independence feel of the area.
Accommodation Options
Day 7
Munnar, Periyar
Take the scenic road through the Western Ghats towards Periyar National Park. Stay at the Cardamon County resort or similar, for two nights. A late afternoon tour of a spice garden offers an interesting insight into how cardamom, cloves, cinnamon and other spices are grown, cultivated and processed.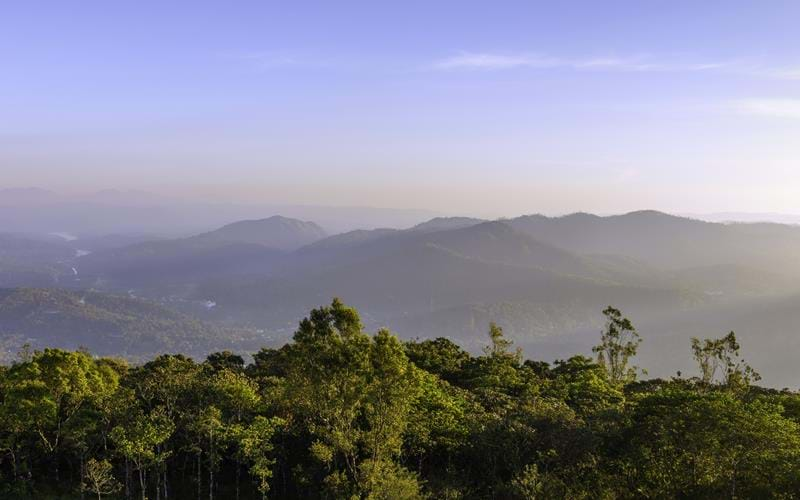 The mountains of inland Kerala, which run the entire length of the state, are one of the world's biodiversity hot spots. Tea, coffee and spice plantations dominate many areas, but abundant forest also survives, and the Periyar Wildlife Sanctuary encompasses one of the most readily accessible of these. Centred on a flooded valley system, the park is among the largest in India, famous first and foremost for its herds of wild elephant, which congregate in the dry season around the shores of Periyar Lake.
During the afternoon tour of a local spice plantation, you'll see how cardamom, cloves, nutmeg, pepper and cinnamon are cultivated and processed.
Accommodation Options
Day 8
Periyar National Park
Explore some of the richest forest tracks of Periyar National Park on a full day of hiking and bamboo rafting inside the park.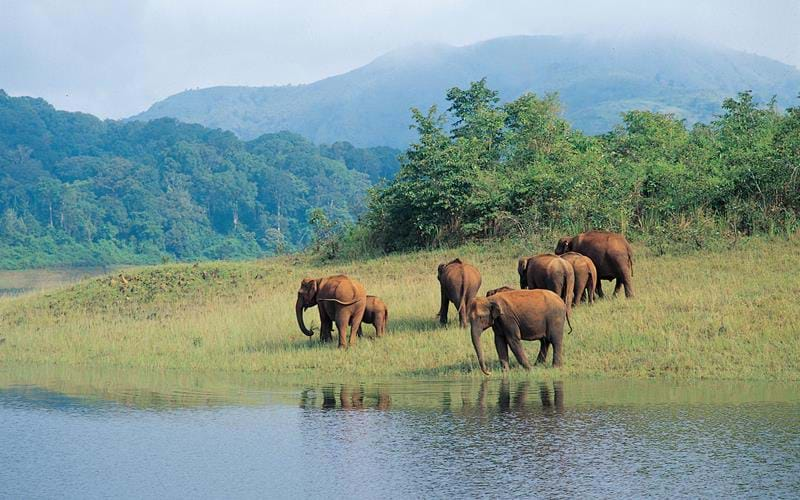 Boat safaris on Periyar Lake are fun, but too noisy for serious wildlife spotting. A better option is to take to the footpaths in the company of a local guide, who can track and identify the many creatures who live in this well-preserved tract of forest. Malabar giant squirrels, palm civets and sambar deer are commonly encountered, as are hornbills and other spectacular birds. Elephants may be sighted around the water's edge and are best viewed from the safety of a boat or safari raft.
Accommodation Options
Day 9
Periyar, Riceboat
Travel to the bustling canal side town of Alleppey. Check-in to a rice boat for an overnight cruise on the picturesque backwaters and Vembanad lake.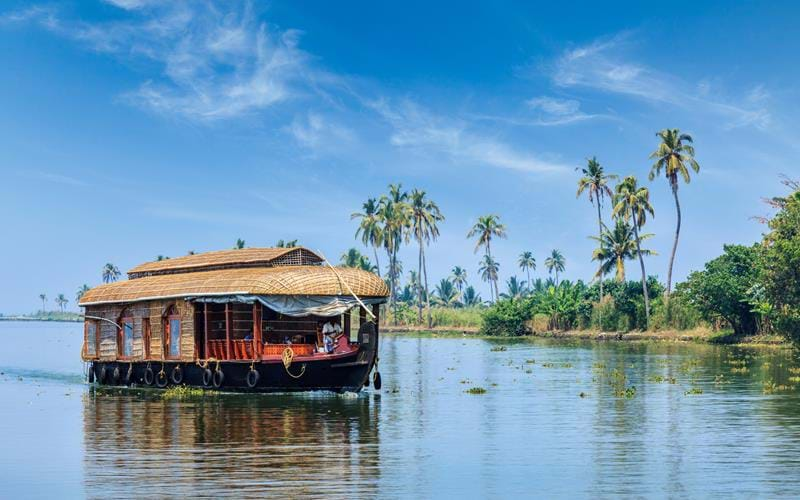 Up until the 1980s, large barges made of oiled jackwood and canopies of plaited palm leaves were used throughout the Kuttinad region to transport rice and other produce through the backwaters. Now, trucks do the haulage work, but the boats – known as kettu vallam in Malayali – take visitors on cruises around the canals, rivers and lagoons of this fascinating region, where most of the population still live in island villages.  A far cry from the oily craft of old, kettu vallam are today fitted with comfortable en-suite, air-con bedrooms, galleys, and viewing decks from which you'll be able to watch the watery world slip past. Four-course meals of delicious Keralan curries are served by liveried staff in the evening.
Accommodation Options
Day 10
Varkala
Drive to the southern coastal town of Varkala in the morning. Check-in to The Taj Gateway Hotel or similar, for two nights. The remainder of the day is at leisure at this standard grade property on a cliff overlooking the sea.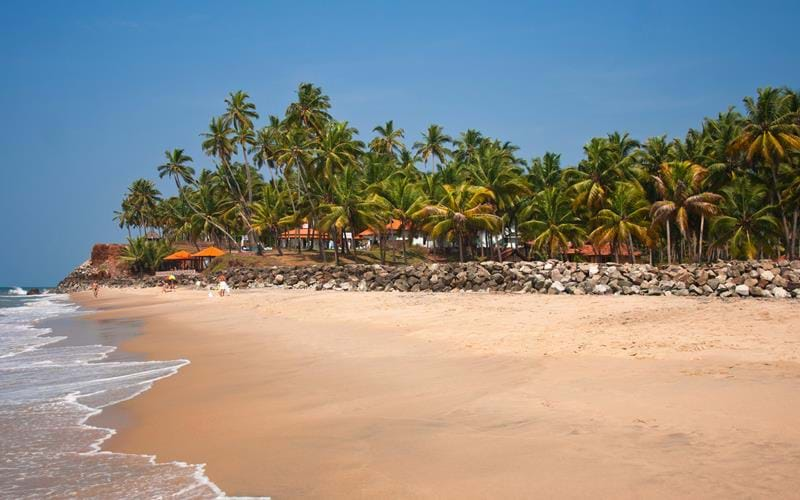 With its spectacular backdrop of laterite cliffs and verdant coconut groves, Varkala's golden sand beach – Papanasam – is the perfect place for a post-tour wind-down.
It is also a fascinating cultural melting pot of old and new India. At its southern end, Hindu pilgrims and priests convene in traditional dress to perform elaborate mortuary rituals, while half a mile north, foreign sun worshippers relax in the surf and cafés lined up on the rim of the great red escarpment behind the beach. Dips in the sea here are only advised for strong swimmers, but your hotel will have a large pool and sun terrace, should you prefer.
Accommodation Options
Day 11
Varkala
Day at leisure: Sightseeing and cycling trips can be arranged for a supplement.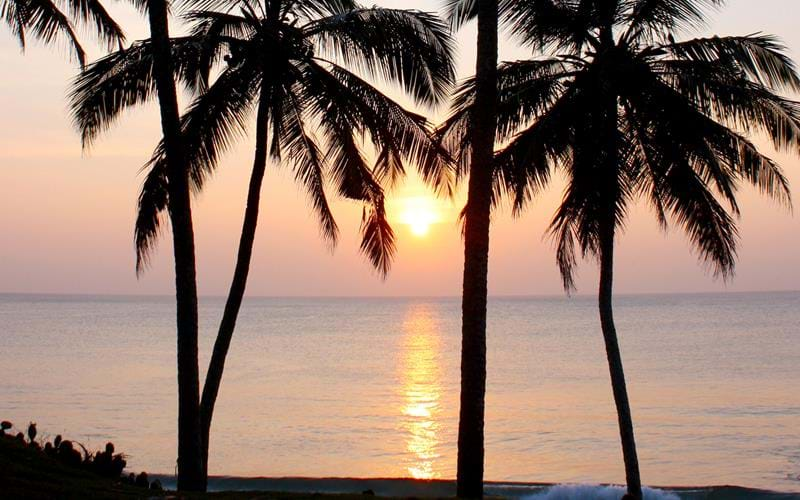 Hardly anyone seems to know it is there, but Anchengo Fort, a fifteen-minute drive south of Varkala through a string of Christian fishing villages, is among the very oldest British monuments in India. It was erected by the East India Company in 1684 as an alternative spice port to the then fledgling harbour at Bombay, and was the scene of dramatic siege in 1721.
In the opposite direction, the Anathavalam Elephant Farm is home to around twenty animals – the largest private pachyderm collection in India – though not all of them will be in residence at any given time. The farm supplies tuskers for Kerala's temple festivals between December and March. Visitors are encouraged to help bathe and feed elephants – a very memorable experience.
Accommodation Options
Day 12
Varkala, Trivandrum
Transfer to Trivandrum airport for your onward flight.
Group Tour

12 days from £1775 per person
What's included

✓   10 nights accommodation
✓   Arrival & departure transfers. Internal travel by road and rail 
✓   English-speaking guides and naturalist. Accompanying tour escort when minimum group size achieved
✓   Breakfast daily. Lunch on days 2 to 6, 8, 9. Dinner on days 3 to 6 & 9
✓   Entrance fees at monuments. Game drives and nature activities in national parks
2024 tour prices for Kerala Adventure
| | | | | |
| --- | --- | --- | --- | --- |
| DEPARTURE DATE | PRICE PER PERSON | SINGLE ROOM supplement | AVAILABILITY | |
| Sun 14 Jan 2024 | £1755 | £775 | Please call us | |
| Sun 11 Feb 2024 | £1755 | £775 | Good | |
| Sun 03 Mar 2024 | £1755 | £775 | Good | |
Make an enquiry
Places and Experiences in this tour
Plan your Next Adventure
With the world now largely open again, now is the time to begin planning your next adventures in Asia. Our Travel Specialists are ready to take your call and discuss the adventure you have spent the last 3 years dreaming of.
Or call us on 0208 566 3739
TransIndus Brochures 2023
Join our mailing list