New
Tailor-made Tour

9 days from £4395 per person
Places Visited:
Seoul, Andong, Gyeongju & Busan
A whistle-stop holiday of South Korea's biggest highlights, this itinerary is fully customisable and can be extended or shortened depending on your time and budget. South Korea is a country known for it's incredible food scene - think Korean BBQ, Kimchi and bibimbap, advanced and accessible technology and fascinating Buddhist temples, it's a clash of old and new cultures and an economy that is evolving faster than almost anywhere else on earth. 
Holiday Types
Cultural Holidays Culinary Holidays in South Korea
Suggested itinerary
Day 1
London to Seoul
Fly from London Heathrow on a direct British Airways flight to Seoul, South Korea's capital. The flight should take around 14 hours
Day 2
Seoul
Arrive at Seoul airport in the morning. You will be met on arrival at Incheon International Airport and transferred to your hotel (1 hour). Your afternoon will be at leisure to recover from the international travel.
Seoul is one of the most exciting cities of Asia displaying a perfect mix of traditional and modern, with countless attractions and sites to explore!  A megalopolis of over 10 million people, Seoul feels like a city on a mission. Modernity is undoubtedly the capital's keynote, interrupted only by a desire to preserve its cultural heritage, particularly the numerous National Treasure and monuments that remain, dating back to the 14th century.
If you can't wait to begin your explorations why not take a leisurely stroll out of your hotel and step into the buzzing Myeongdong market, one of Seoul's most-loved shopping district where the young and fashion conscious come out in exuberant style to be seen and admired as they wine and dine in the numerous local cafés, bars and restaurants.
You could consider catching an amateur production of Korean Cultural Theatre in the Daehakro District a short distance from your hotel. It's much more performance than drama and predominantly consist of dance, shaman ritual and circus, tinged with satire that showcases the lighter, edgier side of local culture with humour and a degree of social criticism.  Don't worry about your Korean language skills, you'll instinctively know when to laugh or cry! There's no need to book ahead, thickets are usually available on the night.
Accommodation Options
Day 3
Seoul
Enjoy breakfast at the hotel. We begin our sightseeing tour of Seoul with a busy morning at the Gyeongbokgung Palace Complex, the principal palace of the Joseon Dynasty where you can witness the changing of the guard ceremony. It's a great opportunity to experience a rare traditional scene in Korea! We continue onto The National Palace Museum of Korea and The National Folk Museum before wandering though the private apartments of the palace itself. This afternoon, we head to the Namsan Mountain Park and Tower, one of the tallest towers in Asia to catch breath-taking views across the city and Hangang River.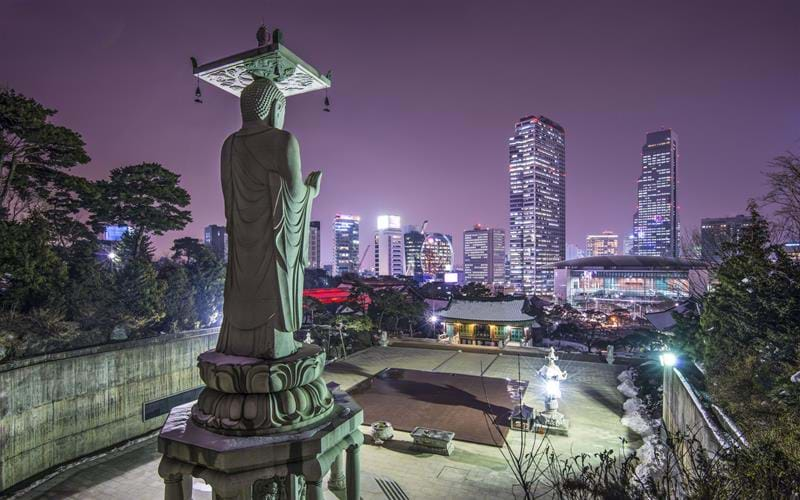 The Gyeongbokgung Palace Complex is the grandest of five great palaces built by the Joseon's, the longest ruling Confucian dynasty who reigned over South Korea for some five centuries. It is one of the most important structures of the city and a fine example of Korean architecture, often compared to the Forbidden City in Beijing. 
Secured by great fortified walls with just four points of entry the largest which, The Gwanghwamun Gate leads directly to the  Gwanghwamun Square, the main congregational square of the palace where the changing of the guard ceremony takes place. Today parts of the palace are occupied by The National Palace Museum of Korea howcasing the lifestyle of the Joseon society, including pieces reflecting its arts, science and music and The National Folk Museum which houses artefacts of the traditional rural lifestyle
The beautifully manicured grounds feature a glorious pavilion at its heart on a private island, in the middle of a lake connected by three elegant stone bridges while the flora of the landscape is home to a large variety of birds.
Accommodation Options
Day 4
Seoul
Following breakfast at the hotel we head for the Jogyesa Shrine, adjacent to Changdeokgung Palace. Dedicated to kings and queens of the Korean Joseon Dynasty the shrine is said to be the oldest preserved, royal shrine in Korea. We also visit the Changdeokgung Palace & Huwon Garden (closed on Mondays), the Heunginjimun Gate, and the ultra-modern swirling Dongdaemun Design Plaza (DDP) designed by Zaha Hadid. Our last stop will be at the Gwangjang Market the oldest traditional markets in Seoul and the best place for Korean street food. We stop here for lunch in a local restaurant. In the afternoon we walk around Bukchon Hanok Village. The day ends at Insa-dong Street, one of the most memorable attractions in Seoul and represents the focal point of Korean traditional culture and crafts.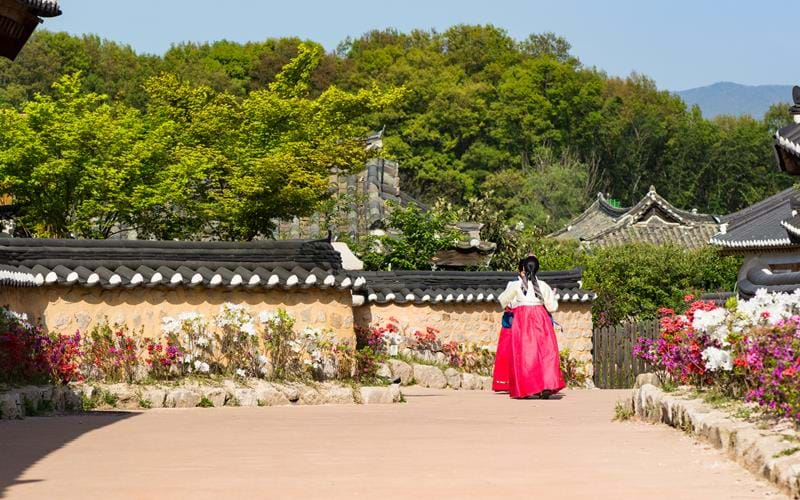 The Bukchon Hanok Village area preserves a 600-year-old urban settlement offering a valuable insight into the cultural history of the Joseon period.  Located north of the Cheonggye Stream, the village shows some great examples of traditional Korean architecture. It is also home to the Bukhchon Traditional Culture Centre with a wide selection of cafes, restaurants, and shops offering handmade crafts and a traditional tea houses.
Close by is Insa-dong Street, one of the most memorable attractions in Seoul and represents the focal point of Korean traditional arts and crafts. Stores here specialise in a wide variety of hand-made goods like Korean Hanbok (traditional clothing), Hanji (traditional paper).  One of the main attractions in the area is 'Dragons Beard Candy' or 'Kings Dessert', swirls of spun honey in multiple flavours of almond, peanut, chocolate or fruit, spicy Korean dumplings and sticky sweet pancakes.
Optional: If you are keen to experience some of the more traditional food and drinks of the country, we would recommend the Suyeonsanbang Tea House (with a nominal cover charge), for a traditional and atmospheric tea ceremony accompanied by delicacies such as bamboo rice. Alternatively try Korean BBQ dinner, in one of the many beautiful restaurants located in the Insa-dong Street area.
Accommodation Options
Day 5
Seoul
After breakfast you head for the Bongeunsa Temple, a thriving Buddhist complex just south of the river that bisects the city into two. While most Koreans profess no religious affiliation Buddhist Temples and Confusion shrines remain busy! Stop at the nearby 'Gangnam Style' statue in front of COEX Mall before heading south to the Samneung Park, a densely forested area which is home to the UNESCO World Heritage designated Tomb Mounds and burial grounds of some of Korea's great kings. Enjoy lunch in a local restaurant before heading back to the hotel, over Bonpo Bridge, also known as the Rainbow Bridge, reputed to have the world's longest fountain. Your last afternoon in Seoul is at leisure.
Optional Excursions:
Seoul offer much more for those with a little more time and if you are able to find an extra day or two, why not consider one of our Holiday Extensions
Accommodation Options
Day 6
Andong Hahoe Village
After breakfast at the hotel check out of your hotel and head for Andong City in your private chauffeur driven car (4 to 5 hours) through the central heartland of the country. On arrival enjoy a relaxing lunch in a local restaurant before checking into your hotel. In the afternoon we enjoy a half day visit to the 600 year old UNESCO Heritage listed folk village of Hahoe on the outskirts of Andong city.
Andong, the cultural capital of Korea is thought to be the birthplace of Confucianism in Korea, its traditional wooden masks and of course 'Soju' Korea's favourite alcoholic tipple!
The regions principal site is the UNESCO Heritage listed folk village of Hahoe sits an hour's drive out of town.  Located in the foothills of Hwasan Mountain with Nakdong River, which flowing around its perimeter this 600 year old village commands an idyllic location and provides visitors with the unique opportunity to experience the lifestyle of the Ryu Clan, up and close. Small straw-thatched house with quaint gardens at the periphery of the village surrounded large tile-roofed houses adding their own unique charm to local character.
Here we have a chance to experience the living, traditional lifestyle of the residents and sample regional specialities, visit the small Mask Museum and participate in folk dances.
Accommodation Options
Day 7
Gyeongju & Busan
After breakfast you continue your journey south to Gyeongju (2-3 hours) to visit the Bulguksa Temple, a sprawling Buddhist complex said to be the oldest and most famous Silla shrine surviving in Korea. We also visit the exquisite Seokguram grotto further up the mountain. Time permitting we may be able to visit the Royal Tumuli Park tombs of the Silla Kings. Most tombs remain unopened but those that have been excavated revealed numerous objects suggesting the great wealth and power of the dynasty. You enjoy a leisurely lunch here before continuing our journey to Busan (2 hours). Our dinner will be in Busan shortly after arrival and check-in.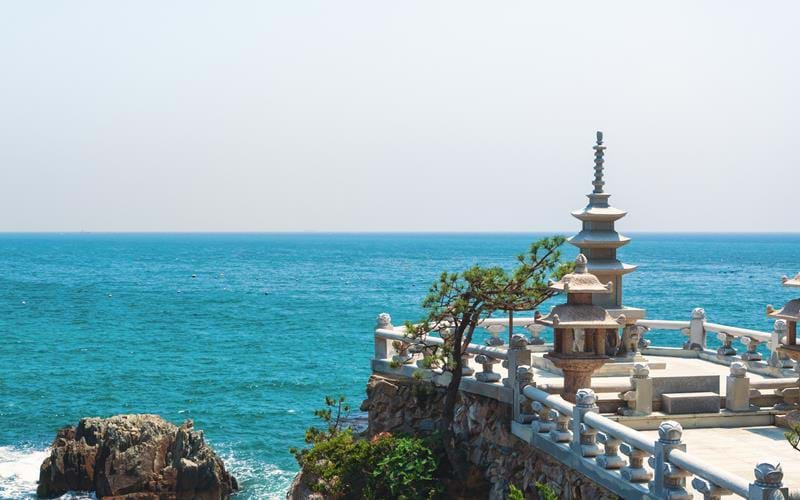 The seat of the powerful Silla dynasty, Gyeongju offers an exceptional crop of monuments comprising temples, pagodas, ancient burial sites, statues and gardens in the shadow of Mount Namsan.
No less than four UNESCO listed World Heritage Sites are found here. The first is the Royal Tumuli Park – a collection of smooth-sided, grassy mounds in which the Silla Kings lie buried. Many of these tombs remain unopened, but treasures from those that have – including several solid gold crowns, ornamental weapons and the huge 'Emille Bell' – are displayed in the Gyeongju National Museum, along with ceramic items and other religious artefacts.
Bulguksa Temple is Gyeongju's crowning glory, nestled amid pine, peach, plum and cryptomeria trees on the lower slopes of Mount Tohamsan, the sprawling Buddhist complex is the oldest and most famous Silla shrines. The architect responsible for Bulguksa also designed the exquisite Seokguram grotto, further up the hill, where most people head to admire the seated Shakyamuni Buddha, – an, eerily lifelike carving that is regarded as the high watermark of Buddhist art in the Far East.
Accommodation Options
Day 8
Busan
After breakfast in the hotel, we drive to the Gamcheon Culture village. It ranked among the poorest neighbourhoods in the country until 2009, when the government invited mural painters and sculptors to spruce up its many empty properties. The result is a spectacular, vibrant, multi-coloured feast of contemporary art. Later you move onto the theatre district around Nampo-dong Street, and stroll around the Gukje International Market, one of Korea's largest, before heading to the Jagalchi Market where a clutch of small restaurants serves fabulous hwe (sliced raw fish). After lunch enjoy scenic views from the Busan tower and continue to the UN Memorial Cemetery Honouring UN soldiers. Later in the day you enjoy a walk through the APEC House's park before heading to the Haedong Yonggungsa Temple perched on rocks just above the shoreline. Tonight, dinner is at local restaurant
Day 9
Return to London from Busan
Subject to flight timings you transfer to Busan airport in the morning or afternoon, for a short flight to Seoul, connecting with return flight back home to the UK.
Additional Holiday Extensions are available here including visiting Jeju Island, hiking Geumjeongsan Mountain or a day trip to the beautiful Geojedo Island. Find out more by contacting our South Korea travel specialists
Accommodation Options
Tailor-made Tour

9 days from £4395 per person
What's included
✓   International flights from London to Seoul
✓   8 nights accommodation
✓   All internal transportation and transfers
✓   English-speaking guides
✓   Breakfast daily
✓   Entrance fees to sites and monuments listed in tour itinerary
Holiday Extensions for this tour

Noryangjin Fish Market in Seoul
Half Day days, nights from £215 per person
Single supplement £ per person
view itinerary
Day Half Day Tour
Seoul
For early risers a visit to Seoul's largest fish market is often considered a highlight. Although the fishing fleets come in around 3am, on a good day with an abundant catch, fish auctions can continue as late at 7am. If keen, we'd be delighted to organise a private early morning visit for you followed by a traditional breakfast at the market.

Visit The Demilitarised Zone from Seoul
Half or Full Day days, nights from £265 per person
Single supplement £ per person
view itinerary
Day Half or Full Day tour
Seoul, Demilitarised Zone
For history buffs we will be pleased to organise either a full day or a half day private visit to the 'DMZ no-man's land' located some 30 miles north of Seoul city. Created by the Korean Armistice Agreements in 1953, the 155-mile long demarcation line was originally created to act as a treaty zone for political meetings but has become a major attraction for visitors in recent years. Here you will be able to visit the Ganghwa Peace Observatory and peek into North Korea, and see Imjingak Park or reunification Park and discover the Bridge of Freedom used by repatriated POWs and soldiers.

Hiking to Bukhansan Peak
Full Day tour days, nights from £ per person
Single supplement £ per person
view itinerary
Day Day Tour
Bukhansan National Park
For the active among you we recommend a hike in the fabulous Bukhansan National Park that sits within Seoul's city boundaries. The Mountainous region boasts several gorges, grasslands and granite peaks with streams of crystal clear waters running through. Hiking to the summit can be challenging and takes between 4-6 hours depending on personal fitness. The excursion includes an accompanying guide. Transport to and from the park, a stop at the Doseonsa Buddhist Temple and a Korean lunch-box.

Short Stay on Jeju Island
3 days, 2 nights from £995 per person
Single supplement £ 125 per person
view itinerary
Day 1
Busan to Jeju Island
After breakfast in the hotel, we get transferred to Busan airport for a short flight to Jeju Island. Stay at The Astar Hotel, a centrally located 4-star hotel offering an array of in-room amenities including a minibar and air conditioning, fitness centre, sauna and free Wi-Fi. In the afternoon, begin exploration of this enchanting island with a visit to Yongduam Rock (Dragon Head Rock), and the peaceful Spirited Garden, the world's largest botanical garden. Explore the O'Sulloc Green Tea Plantation and Museum, then explore the volcanic rock formations of Jusangjeoli, and the Cheonjeyeon Waterfalls.
Day 2
Jeju Island
Today spend the entire day further exploring this island. We start at the volcanic crater at Seongsan Ilchulbong (Sunrise Peak), a volcanic tuff cone and UNESCO World Heritage Site offering spectacular views over the sea and rural landscapes. Tour the traditional homes of the famed haenyeo female divers at the Women Diver's Museum, then visit the world's largest nutmeg tree forest "Bijarim Forest" before you get a true taste of ancient Korean culture at Seongup Folk Village where you see traditional Jeju thatched houses, a Confucian temple, mill and fortress.
Day 3
Jeju Island to Seoul and London
Today morning, we get transferred to Jeju airport for a short flight to Seoul, connecting with return flight back home.
Plan your Next Adventure
With the world now largely open again, now is the time to begin planning your next adventures in Asia. Our Travel Specialists are ready to take your call and discuss the adventure you have spent the last 3 years dreaming of.
Or call us on 0208 566 3739
TransIndus Brochures 2023
Join our mailing list