The allure of Jordan
It's easy to see why Jordan stands at the vanguard of the recent boom in tourism to the Middle East. The Kingdom is by far the most welcoming in the region with a written history that traces back to the Old Testament.
Just a short 5-hour flight away, visa-free with excellent hotel accommodations it is ideal for short breaks and long weekends away, especially if you want to catch a glimpse of the lost city of Petra, hidden among narrow ravines in the depths of the desert.
Land crossings between Israel and the occupied Palestinian Territories are also possible, providing more options for an in-depth tour of this fascinating region.
CHECK OUT OUR FAVOURITE TOURS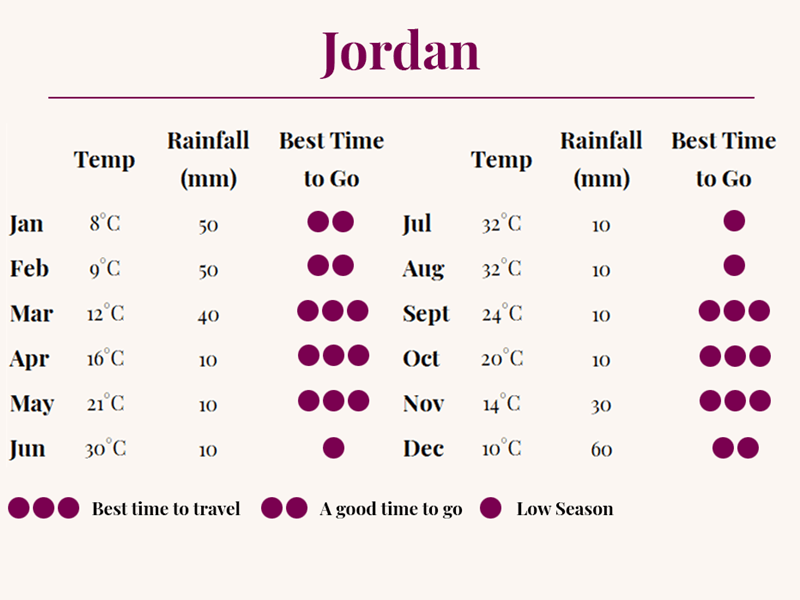 When to Visit Jordan
The best time to travel to Jordan is March through to May, and September through to November. During these months the temperatures are most pleasant, with warm days and cool nights. As expected summer can be extremely hot, though this is a good time to travel if you want to avoid the crowds! Winter in Jordan can be cold, especially the nights in the desert. Snow fall in certain areas (including Petra) is not unheard of.
More about Jordan
The Kingdom of Jordan is by far the most stable and welcoming in the region, with a highly educated populace and a culture that manages to be both pro-Western and pro-Arab. Its written history dates back to the Old Testament (this is where Moses first glimpsed the Promised Land, and where Jesus was baptized). The desert landscapes are simply out of this world, the coastal scenery stunning and the Greco-Roman ruins on a par with anything in Europe or in the Levant. 
The reason almost everyone comes to Jordan, however, is because the country is the home of one of the great wonders of the ancient world. Hidden at the end of a winding, narrow ravine in the depths of the desert, Petra is a lost city whose marvels, which lay undisturbed and forgotten for over a millennium and a half, are often mentioned in the same breath as the Taj Mahal, Machu Picchu and the Egyptian pyramids.
The legendary rose-red ruins fully deserve to top any list of sightseeing priorities, but a visit to Petra can be combined with a string of no less memorable experiences. Camp under the surreal desert mountains and starry skies of Wadi Rum; wallow in a Dead Sea mud bath; crowd watch over a cardamom coffee amid the exotic bustle of Amman's souk; or climb the sun-bleached ramparts of a crusader castle for a view over the desert you'll remember forever.
Jordan Places and Experiences
Plan your Next Adventure
With the world now largely open again, now is the time to begin planning your next adventures in Asia. Our Travel Specialists are ready to take your call and discuss the adventure you have spent the last 3 years dreaming of.
Or call us on 0208 566 3739