New
Tailor-made Tour

15 days from £3895 per person
Places Visited:
Sigiriya, Anuradhapura, Polonnaruwa, Kandy, Negembo, Maldives
Combining the cultural highlights of Sri Lanka with the barefoot luxury of the Maldives this holiday ticks all the boxes for ideal vacation. Staying in beautiful eco-friendly boutique properties with amazing standards of service and with a dedicated, private chauffeur-guide in Sri Lanka, you can be certain of being well catered and looked-after throughout your journey. 
In Sri Lanka, you visit all the principal sites including its ancient capitals and forts, soak up the natural beauty of the hill contry, vist a tea plantation and discover age old temples. You even get to wander off the beaten path to experience elephants in their natural habitat and meet with fishermean as they prepare for their morning catch!
A short flight then takes you to the clear clean waters of the Maldives with white sand beaches and private reefs to unwind in the privacy of your tropical island resort.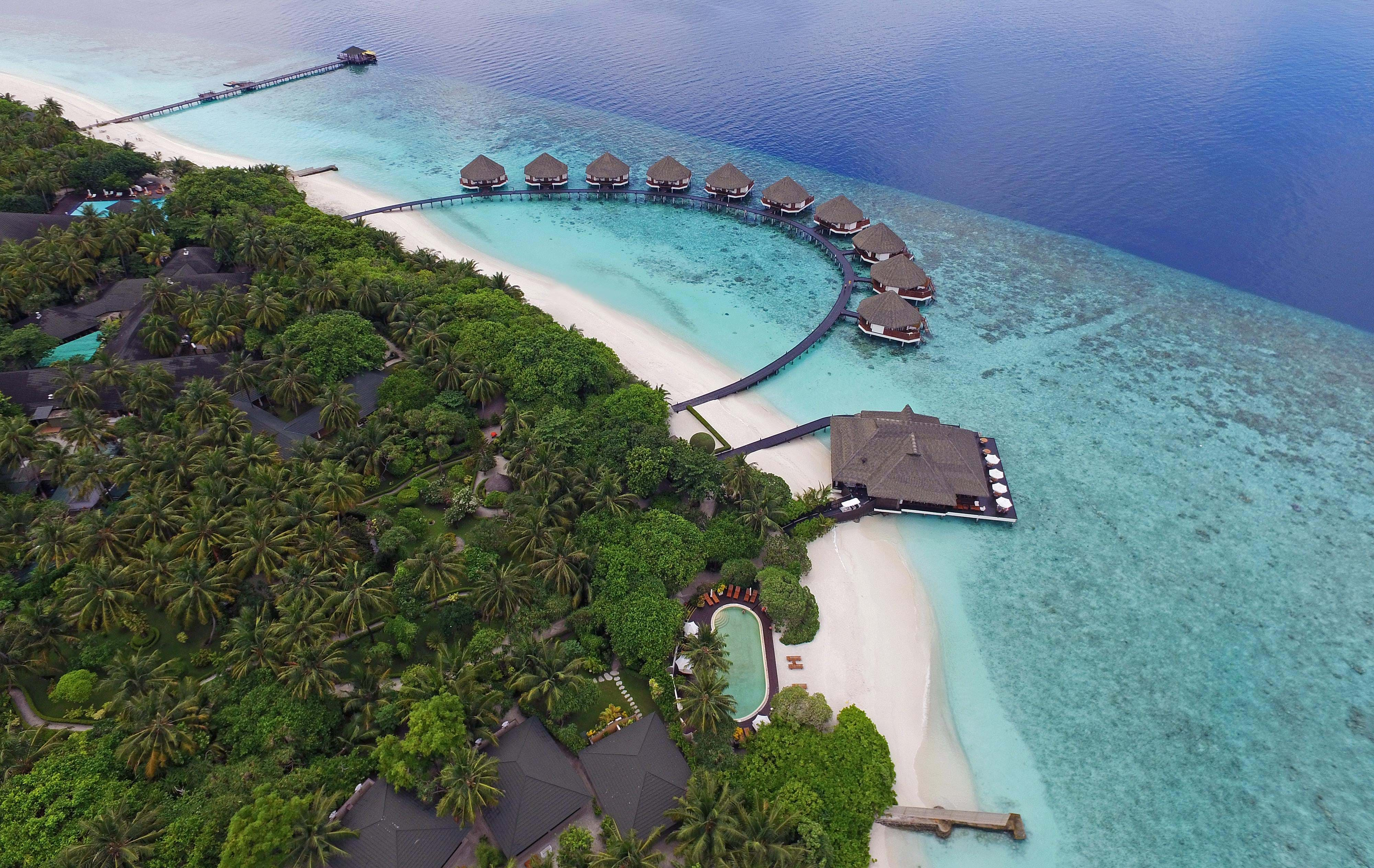 Holiday Types
Cultural Holidays Wildlife Holidays Family Holidays Honeymoons Beach Holidays Adventure Holidays
Suggested itinerary
Day 1
London - Colombo
Depart UK on direct scheduled international flights on Sri Lankan Airline from London Heathrow to Colombo. Overnight onboard flight.
Day 2
Habarana
You will be met on arrival at by our representative and introduced to your driver-guide, who will drive you to your hotel in the ancient city region of Habarana (3 hours 30 mins) and remain with you throughout your stay in Sri Lanka. Stay at the Cinnamon Village Hotel or similar for 4-nights (Standard room)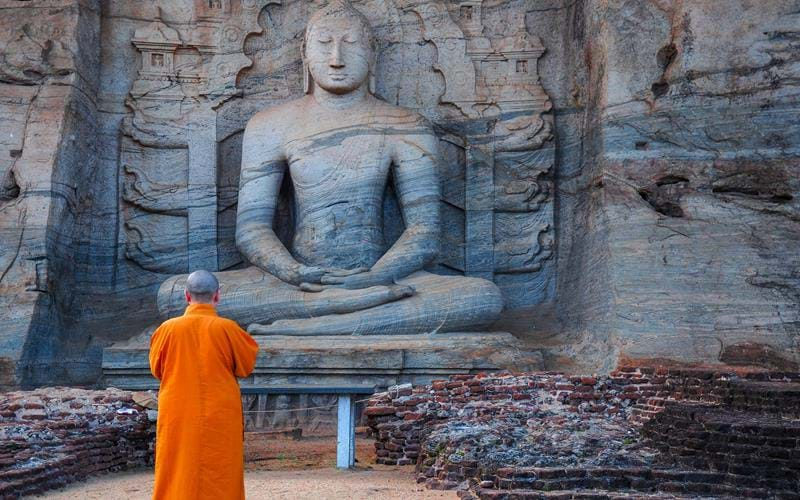 Welcome to Sri Lanka……..
Hanging like a tear-drop off the southern coast of India, Sri Lanka is quite simply one of the most beautiful countries in the world. Home to palm-fringed beaches, a cool and crisp mountainous interior where acres of tea and almost everyting grows and a lush green jungled hinterland where elephant and leopard roam free. Its no surprise that it sits firmly on most 'must visit lists'
An overwhelmingly traditional people, the Sri Lanka live life with great enthusiasm and follow thier buddhist beleifs with equal zest celebrating thier numerous temples and sacred sites relics and religious festivals with equal extravagance. 
Accommodation Options
Day 3
Sigriya Rock Fortress
Enjoy a leisurely breakfast at the hotel and enjoy your hotel facilities while awaiting the result of your PCR test. As soon as the negative report come through, you will be able to visit all approved sites as per your itinerary. Afternoon, enjoy an excursion to Sigiriya Rock Fortress, a UNESCO World Heritage Site in the company of your chauffeur guide (15-minute drive).
The 200-meter high Sigiriya Rock Fortress was built in the fifth Century by King Kassyapa-1st and served as a Royal Citadel for more than 18 years. An astonishing feat of achievement in today's age, let alone in the fifth century BC!
We suggest you pause periodically on your ascent to admire the Great Lion Paws, mirror wall, Sigiriya graffiti and the famous Sigiriya frescoes. At the summit you will be rewarded with breathtaking 360-degree view of the surrounding jungle and hills and remarkable vestiges of the former fort. The climb to the summit requires reasonable fitness but you can always visit the lower platforms if the full ascent concerns you.
Accommodation Options
Day 4
Anuradhapura
This morning we recommend an early morning start for a visit to the UNESCO World Heritage Site of Anuradhapura, the sacred home of Buddhism in Sri Lanka. It is believed the famous 'Tooth Relic', now housed at Mihintale, was originally laid to rest here, in a charming temple, built around a sunken water pool hollowed out of a boulder-strewn hillock. (1-hour 30-minute drive). After lunch you return to the hotel for and the remainder of your day will be at leisure to enjoy the hotel facilities.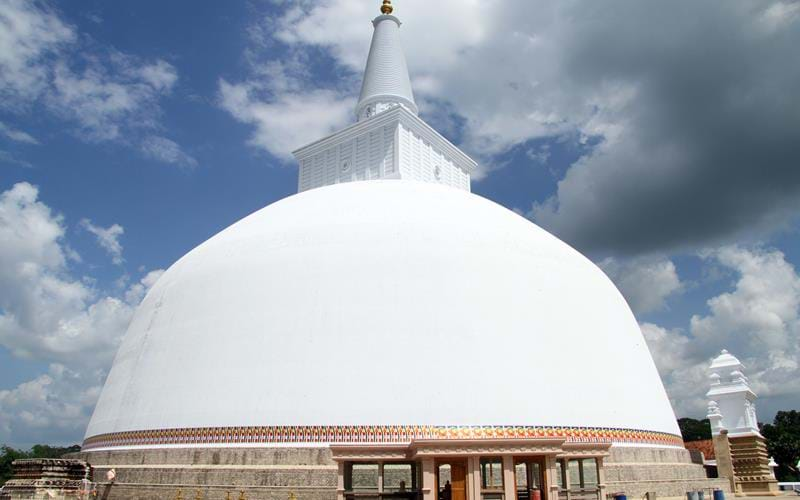 Predominantly influenced by Buddhism, the Kingdom of Anuradhapura was the first of Sri Lanka's great capital cities. According to the ancient Sinhalese Chronicles, like the Sigiriya Rock Fortress, was also founded around the fifth century BC.
Surviving over two Millennia, the twin brilliant-white, great, dome-shaped stupas, equal in size to the great pyramids of Giza stupas greet visitors from afar but the real attraction here is the ancient masterpiece of sculpture, the 'Samadhi' of Lord Buddha.
Accommodation Options
Day 5
Polonnaruwa & Minneriya National Park
Today we visit another of the Sri Lanka's great UNESCO World Heritage Sites at Polonnaruwa to explore the ruins of this medieval city which boasts vast palaces, intricately carved moon stones, the Royal Baths and the famous Gal Vihara statue. (1-hour 30-minute drive). We recommend exploring this sizable attraction by bicycle. Your guide will be more than happy to arrange them for you. After lunch, proceed to the Minneriya National Park for a game drive to spot wild elephant. (40-minute drive) Return to the hotel for a much-needed rest after a busy day.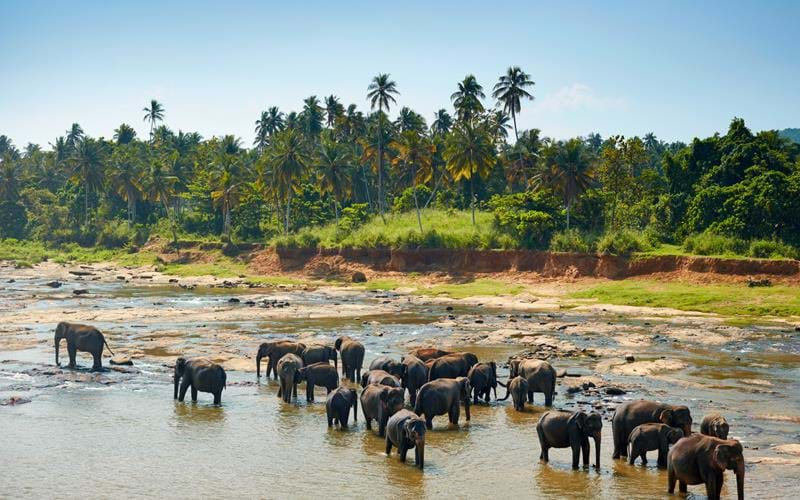 Polonnaruwa: An interesting blend of archaeological monuments, Polonnaruwa was the second kingdom of Sri Lanka. The iconic man-made reservoir, appropriately named "Parakrama Samudra", is still circumnavigated by devotees. Look out for the famous Gal Vihara or "Rock Temple" where you will see four colossal statues of the Buddha cut into the stone, reflecting peace, serenity, and strength.
The Minneriya National Park: Located in the North Central region of Sri Lanka is one of the best places to see the Sri Lankan Elephant up close, all year round. If lucky you may also spot other mammals, birds, butterflies, reptiles, and amphibians. The park is important habitat for the two endemic monkeys of Sri Lanka - the Purple-faced Langur and Toque Macaque.
The park is also home to the impressive Minneriya Tank, a reservoir built by an ancient civilisation, which even today attracts large herds of elephants, deer, and water buffalo to its shores, particularly during the dry season (June to September). It is during this time that Minneriya National Park gains fame for the "the Gathering", when you as many 300 wild elephants around the reservoir. We recommend a late evening or very early morning visits.
Accommodation Options
Day 6
Habarana - Kandy
After breakfast, proceed to Kandy. where you check in to your hotel for 2 nights at Cinnamon Citadel. (2 hours drive). The rest of the day will be at leisure to enjoy the facilities and perhaps a gentle stroll through town. Early evening, we suggest you head for the 'Temple of the Sacred Tooth Relic', another of Sri Lanka's UNESCO World Heritage Site and the most prominent Buddhist Temples in the hill capital returning to the hotel in time for dinner.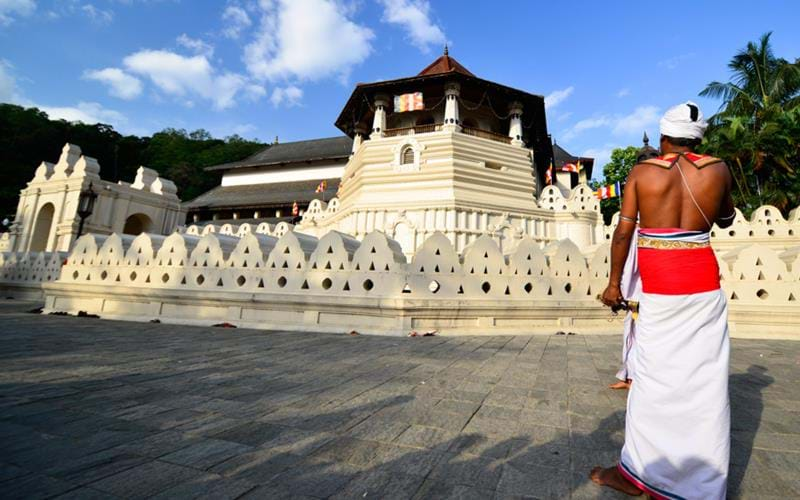 Built during the 16th century, the 'Temple of the Tooth' houses the sacred relic of the Buddha in a two-story inner sanctum, making this the most important shrine for Buddhists in Sri Lanka.  The best time to visit is at 'Thevava' when Lotus and Jasmine flowers are offered to the relic, accompanied by the sound of drums and other instruments. You guide will help you time your visit with Thevava.
Accommodation Options
Day 7
Kandy Royal Botanical Gardens
Enjoy an excursion to a tea plantation and factory, where you may be able to create your very own blend of tea. Following a local lunch, we recommend a visit to the Royal Botanical Gardens at Peradeniya, at the edge of the city returning to your hotel early evening.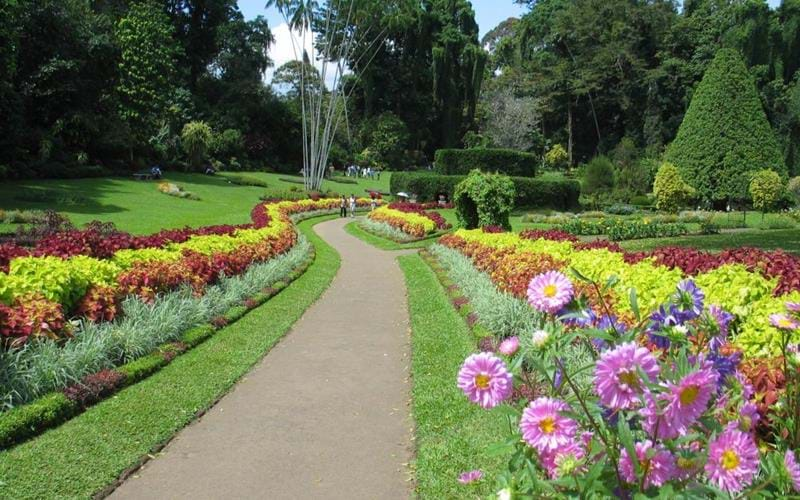 Spread over 147 acres and bordered by the Mahaweli River the botanical gardens were originally designed as a pleasure gardens for royal queens. Today they are home to over 4,000 species of plants, ferns, shrubs, palm trees, spices and medicinal plants.  As expected, vast numbers of birds and butterflies can be found here to the absolute delight of ornithologists and Lepidopterologists. 
We recommend taking time to admire the collection of over 300 varieties of orchids, the giant bamboo and double palm trees, many of which were imported to the island and hundred years of years ago.  Tiny little shops at the periphery of the gardens produce and sell an array of essential oils, which you might enjoy sampling.
Accommodation Options
Day 8
Kandy - Negombo
Following breakfast and on collecting the negative results proceed to Negombo near the airport in Colombo (4 hours drive) where you check-in to your hotel for the night. The rest of the day will be at leisure either to enjoy the hotel facilities or a short stroll to the beach. Stay at the Jetwing Lagoon or similar for the nights (Standard room)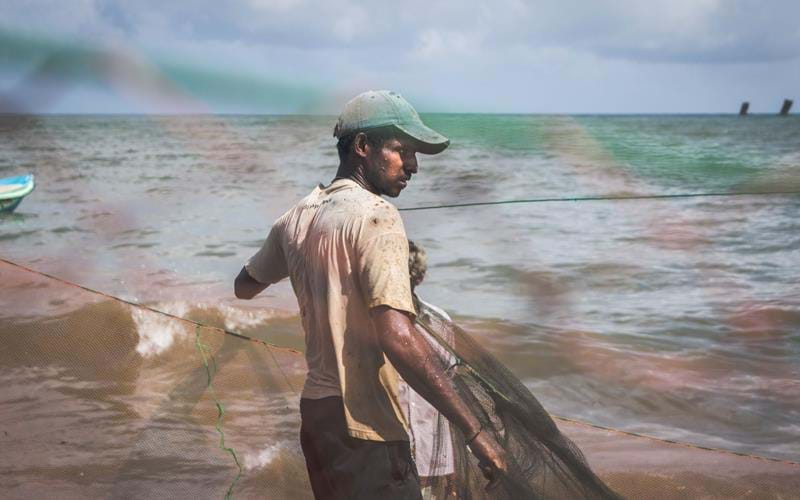 The closest resort to the international terminal and most convenient for your onward journey, Negombo is home to some of the most picturesque fishing villages and we recommend a wander on the beach at sunset, when local Karava fishermen mend their nets and prepare their boats ahead of night fishing trips.
A strip of restaurants and cafés behind the beach at Lewis Place, is a great place to sample local seafood and catch up on a lively local atmosphere, particularly after dark.
Accommodation Options
Day 9
Negombo - Colombo - Maldives
This morning you will transferred to the airport, in time for your flight to Male. (30-minute to the airport) (1-hour 30 -minute flight to Male). On arrival, you will be guided to your transfer Terminal for a boat transfer to your beautiful resort, where you check-in for 6-nights at Adaaran Select Hudfuranfushi / Medhufushi Island Resort or similar. You will be free to relax and enjoy the full glory of the Maldives and your resort.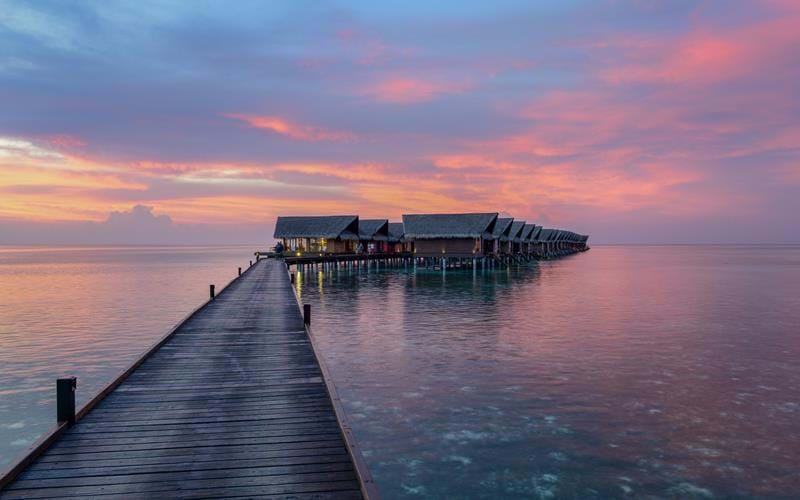 The Maldives experience is all about relaxation, relaxation, relaxation……  while surrounded by calm blue waters, shimmering white sand, swaying palms, amazing service and great food and wine. For those who enjoy activities a host of activities are offered by different resorts ranging from water sports from snorkeling, diving, whale & dolphin watching, island hopping to visits into nearby local villages. 
We recommend speaking with our specialists to find just the right resort to suit your needs.  They will be able to advise on what is available where. But as a rule of thumb, the smaller islands offer a quieter, more intimate experience while the larger resorts offer much more immersive experiences with plenty of activities to keep you busy.  Then of course there are the resorts best suited for families, where the young ones are independently catered for and well-looked after, while you enjoy some down time.
Accommodation Options
Day 10 -14
Maldives
Remain at leisure in the Maldives - to enjoy the serene surroundings and the facilities of your resort.
Day 15
Male - Colombo - UK
This morning your transfer by speedboat to Male airport for your return flight to Colombo and onward connection London on Sri Lankan Airways.
Tailor-made Tour

15 days from £3895 per person
What's included
✓   International flights
✓   13 nights accommodation
✓   All internal transportation and transfers (shared transfers in Maldives / private in Sri Lanka)
✓   English-speaking chauffeur guide in Sri Lanka
✓   Breakfast daily in Sri Lanka and All Inclusive in Maldives
✓   Entrance fees to sites and monuments listed in tour itinerary
Places and Experiences in this tour
Plan your Next Adventure
With the world now largely open again, now is the time to begin planning your next adventures in Asia. Our Travel Specialists are ready to take your call and discuss the adventure you have spent the last 3 years dreaming of.
Or call us on 0208 566 3739
TransIndus Brochures 2023
Join our mailing list