Tailor-made Tour

13 days from £6860 per person
Places Visited:
Tokyo, Hakone, Takayama, Kanazawa, Kyoto
This focussed, 13-day tour ticks off the great sights of central Honshu, beginning with three nights of acclimatisation and sightseeing in the capital. From Tokyo, you'll take a short train ride to Hakone to savour the mesmerising views of Mt Fuji and Lake Ashi, staying at a ryokan inn with its own thermal hot tub. Next, it's over to the other side of the island to soak up the Edo-period charm of Takayama's antique streets before delving into traditional splendours of Kanazawa and Kyoto – both crucibles of old-world Japanese style and culture. If you're travelling to Japan to see Zen gardens, cross paths with geishas in full regalia, marvel at exotic landscapes and experience Japanese hospitality at its most refined, then this tour is for you.
Holiday Types
Cultural Holidays Luxury Train Holidays Family Holidays Culinary Holidays
Suggested itinerary
Day 1
UK
Fly overnight from the UK to Tokyo.
Day 2
Tokyo
Arrive in Tokyo and transfer by airport bus to your hotel for a three-night stay in the Japanese capital. Spend the remainder of the day recovering from your flight, perhaps with a visit to the Old Quarter of Asakusa in the afternoon.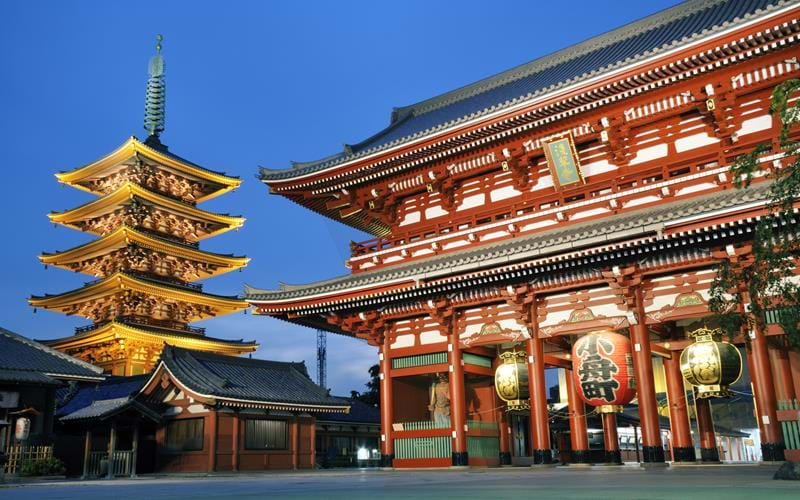 For a quick, jet-lag busting fix of old Tokyo, we recommend the eastern Asakusa district, home of the venerable Sensoji temple. Watch worshippers light incense and bow before the city's oldest shrine, then enjoy the Japanese atmosphere of the surrounding streets, with their antique kimono boutiques and traditional kitchen utensil shops. For dinner, we recommend main Ginza branch of the famous Kyubey chain, where you'll find out what real sushi should taste like. As with most high-end sushiyas, each piece is made in front of you and served one at a time. The flavours are nothing short of a revelation!
Accommodation Options
Day 3
Tokyo
Today you'll explore Tokyo by public transport with a private guide. The first suggested stop will be the Meiji Jingu temple, followed by Omotesando, Japan's own 'Champs-Elysees', with a cruise on the Sumida Gawa river to round off the afternoon.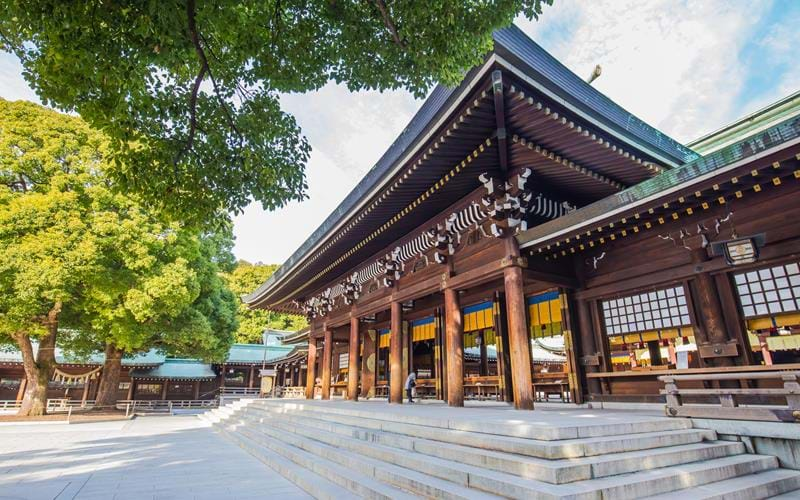 The capital's most famous Shinto shrine, Meiji Jingu, is a popular venue for Japanese weddings and if you are lucky, you may see a bride and groom in traditional attire. Next, walk with your guide down Omotesando, enjoying the bustle and glamour of Tokyo's ritziest shopping street. In the afternoon, you'll experience the city from a totally different perspective as you take a cruise down the Sumida Gawa to Hamarikyu-Teien, and exquisite Edo-period garden encircled by skyscrapers, where you can pause for a green tea and a traditional sweet in the delightful lakeside teahouse.
Accommodation Options
Day 4
Tokyo
Take a day trip north by coach to visit Nikko today.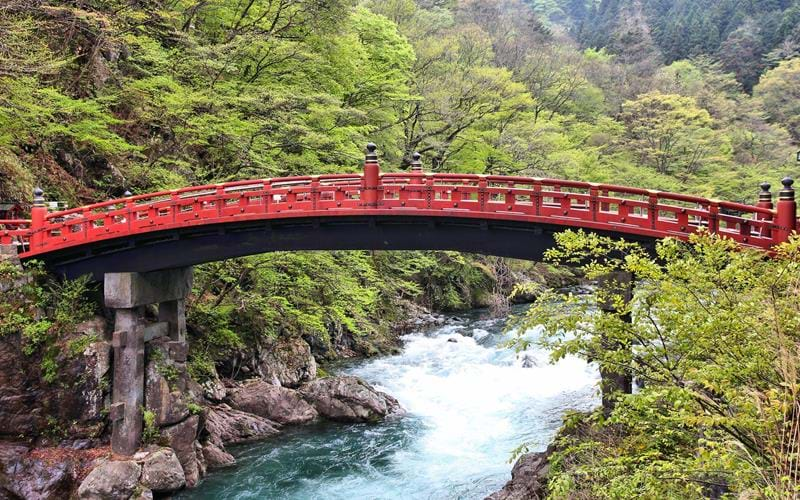 Set amid beautiful surroundings in the mountains, UNESCO World Heritage listed Nikko is like a Japanese ink painting brought to life, complete with lines of moss-covered Jizo Buddhas sporting knitted crimson caps, stone lanterns backed by towering cedars, and a red-lacquer bridge framed by snowy white mountains. The oldest monuments date from 766AD, but the place really blossomed in the 1600s after the great Tokugawa Shogun who first unified Japan (and later provided the subject for James Clavell's hit novel, 'Shōgun') was enshrined here. One of the standout sights is burnished copper pagoda roof of the 8th-century Futarasan shrine.
Accommodation Options
Day 5
Tokyo - Hakone
Today you'll travel by coach to the Hakone National Park, visiting Mount Fuji en route. Later, take a cruise on Lake Ashi and cable car ride to Hakone's museums, sculpture parks and art galleries.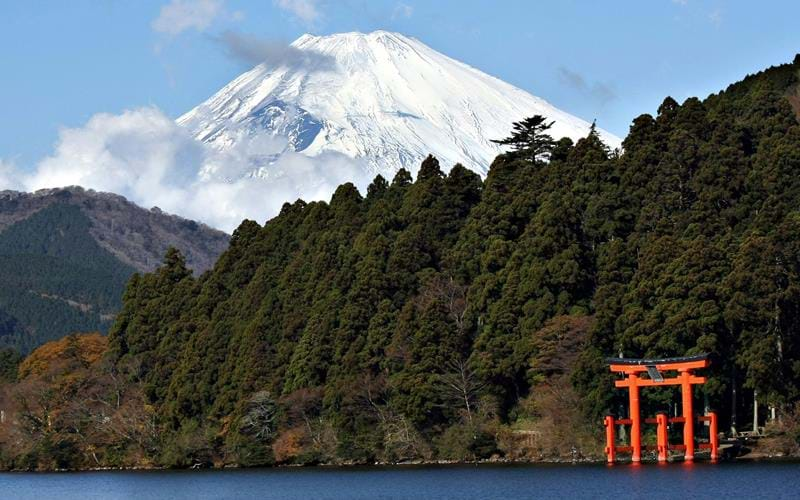 Rising from the Pacific coast of central Honshu, Japan's sacred mountain has inspired painters, printers, poets and Shinto mystics for many centuries. See why on the fifth day of your tour, as you ascend the massif to an altitude of 2,000m, from where the panoramic views will be (weather permitting) magnificent. Later enjoy a cruise in a replica galleon on Lake Ashi, followed by a cable car ride over the forest tops to Hakone. Among the highlights of any stay in this area is the chance to soak in a naturally heated thermal bath, or 'onsen'. Your hotel in the resort will have an excellent one.
Accommodation Options
Day 6
Hakone - Takayama
In the morning, travel to Odawara, then by bullet and express train to Takayama – a journey that takes in some glorious mountain scenery. After checking into your hotel, enjoy an afternoon stroll through the old town, with its wooden shopfronts, coffee shops and old sake bars.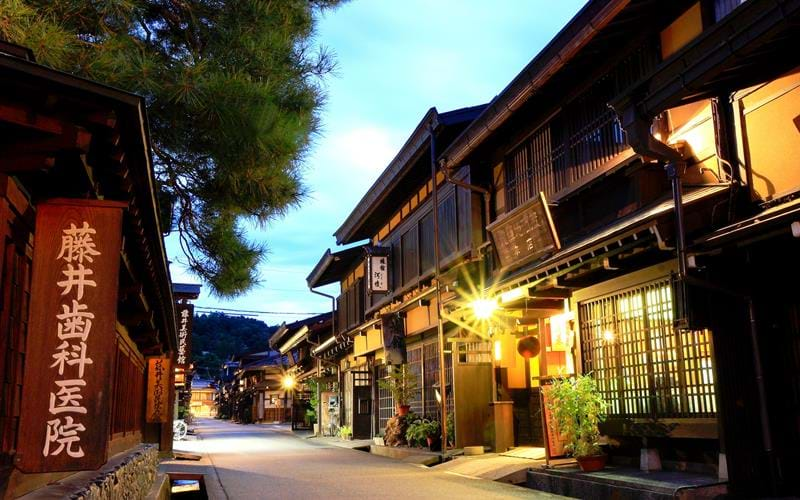 For supper, be sure to sample the local speciality, hida-gyu – local-style beef sourced from accredited herds grazing in the surrounding hills. It has a distinctive, mesh-like marbling and is superb when grilled or served as sukiyaki. One of our favourite places to try this Japanese delicacy is Maruaki on Tenman Machi.
Accommodation Options
Day 7
Takayama
Start the day with a round of the local farmers' market, then take in a few museums and sake distilleries in Takayama's old town. In the afternoon, visit a folk museum preserving 30 different antique Japanese farmhouses.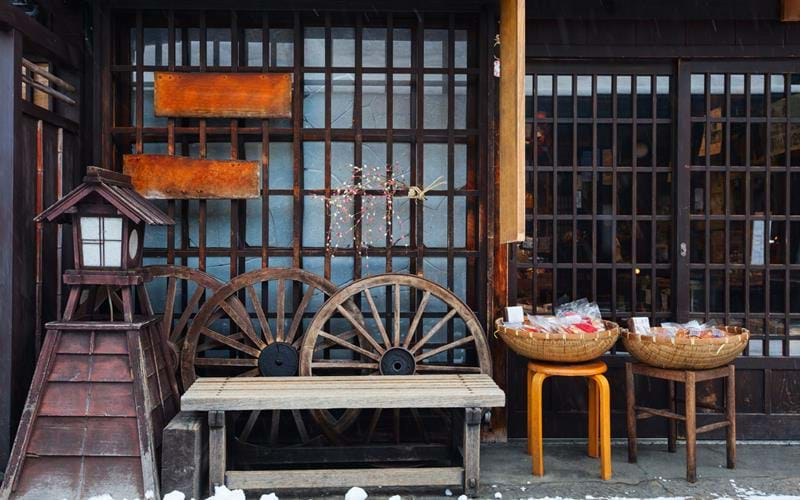 Asa-ichi ('morning markets') take place every day from 7am until noon in Takayama. We particularly like the one at Miyagawa, spread along the east bank of the river. Nearby, the old quarter of Sannomachi holds a bumper crop of 18th century buildings, several of which have been converted into museums where you can admire beautifully recreated interiors. Also worth a look is the Takayama Matsuri Yataikaikan, which holds a selection of elaborately lacquered antique floats used in the annual Matsuri festival. Later, jump on a bus to Hida No Sato, whose huge open-air museum offers a vivid insight into local life during the Edo period.
Accommodation Options
Day 8
Takayama - Kanazawa
After breakfast, catch a bus to Shirakawa-go, a UNESCO-listed silk-producing area famed as an enclave of traditional Japanese life and style. Later, travel onwards to Kanazawa.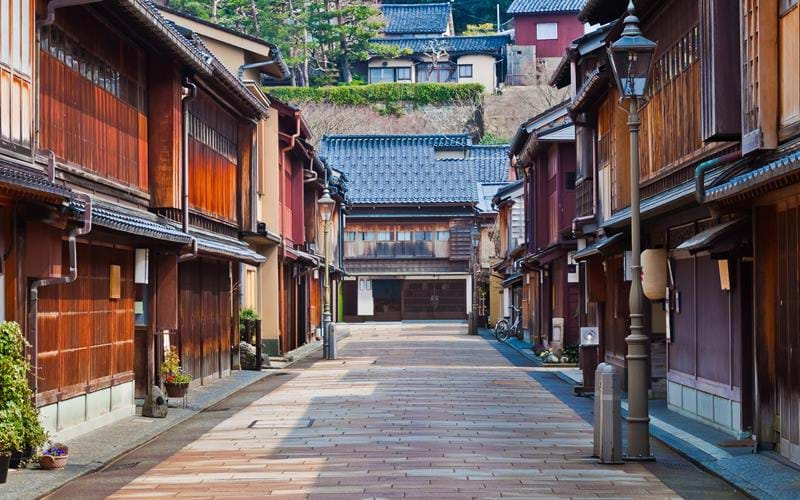 Physically remote from the rest of Japan, the thatched villages of Shirakawa-go survived for many centuries from cultivating mulberry trees and spinning fine silk. Known as gassho-zukuri ('hands in prayer'), its traditional A-frame houses nestle amid a bucolic landscape of rice terraces and wooded slopes above the Shogawa River. More wonderful old buildings survive in your next destination, Kanazawa. Once you've checked in to your hotel and freshened up, head over to the Nagamachi Samurai district, one of whose grand, shingle-roofed mansions – Nomura-ke – has been beautifully restored to showcase the lifestyle of the Samurai elite at its peak four centuries ago.
Accommodation Options
Day 9
Kanazawa
A full day's sightseeing today in this atmospheric city, whose unique cultural life has earned for it the nickname 'Little Kyoto'. Start your tour at the famous Kenroku-en garden and end at the castle.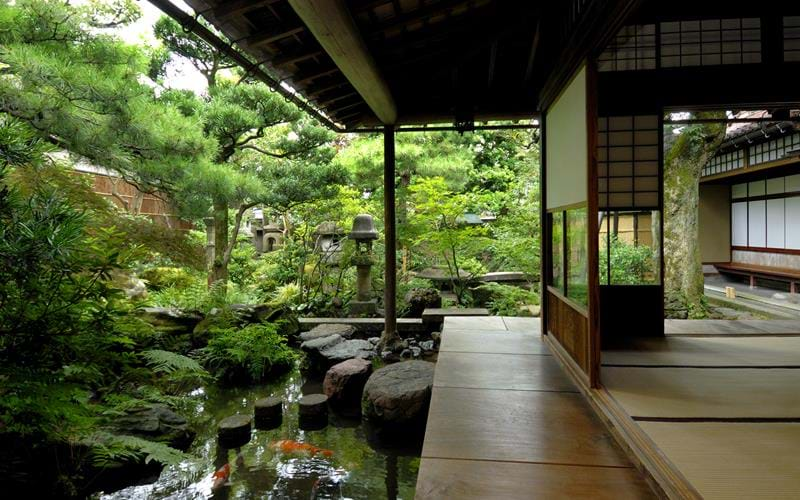 Regarded as one of the country's 'Three Great Gardens', Kenroku-en's expanse of ancient pines, ornamental lotus ponds and pretty fruit orchards extend over 25 manicured acres. More traditional savoir vivre is on display at the Higashi district – a heritage enclave of double-storeyed, wood-fronted shops, among which the Shima Geisha Museum offers insights into the cloistered life of the Japanese geisha. In the afternoon, wander through the adobe-walled compounds, narrow alleys and canals of Nagamachi again to the city's iconic samurai castle – at its most splendid when framed by cherry blossom in the spring.
Accommodation Options
Day 10
Kanazawa - Kyoto
After breakfast, transfer to the station to catch the bullet train from Kanazawa to Kyoto.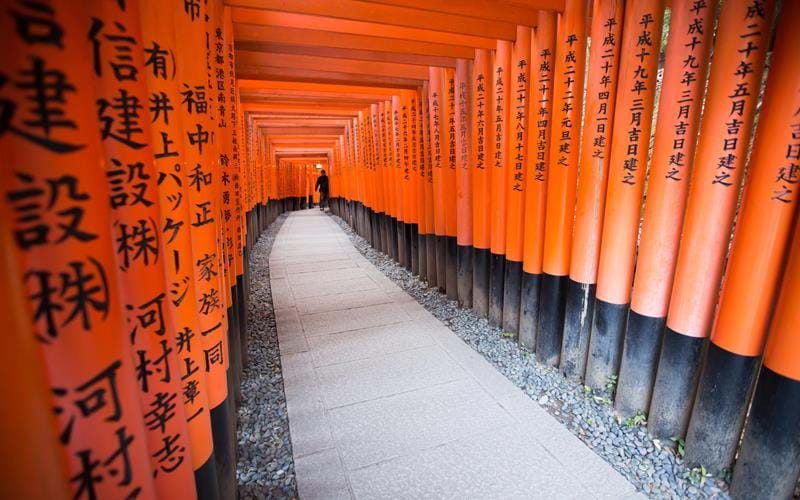 You should have enough time in the afternoon to squeeze a spot of sightseeing. A good option would be the trip up to the Fushimi Inari shrine on a hillside overlooking the city – one of the most romantic spots in the region, where lines of inscribed, red-lacquer archways form beautiful covered walkways. After, stroll along the Philosopher's Walk, a pleasant waterfront path lined with cherry trees, before dinner at Tako Nyudo, which specializes in Kyoto's home-style of cooking, known as 'obanzai'. We recommend the more-ish house speciality, 'akashi yaki' – pieces of delicately flavoured octopus fried in crispy egg batter.
Accommodation Options
Day 11
Kyoto
Today you'll explore this fabulous city in greater depth on a full-day guided tour. Must-sees include the Imperial Palace, Nijo Castle, Kinkakuji and the Kiyomizu temple.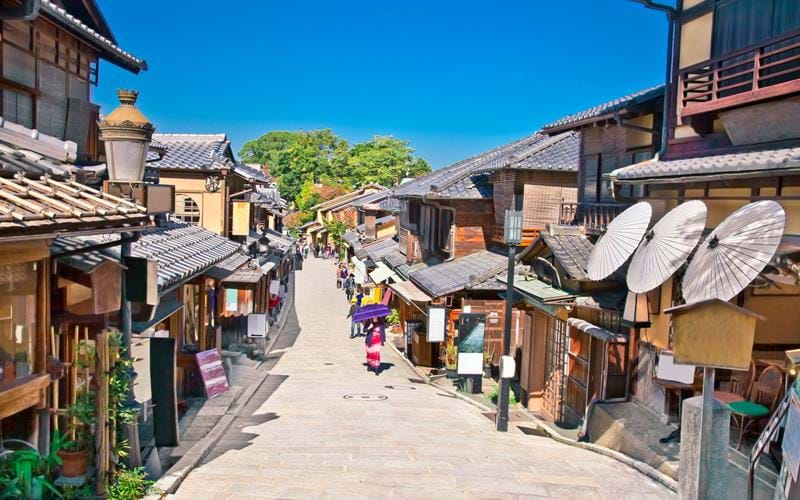 Kyoto is the Japan of the imagination – a city of cherry trees, pagoda-roofed temples, geishas and tea ceremonies, all set against a backdrop of lush green hills and fine traditional architecture. An unparalleled wealth of period buildings survive here, from Edo-era wood-fronted houses to glittering medieval shrines crammed with sumptuous art. You'll also have the opportunity to experience the art forms associated with them, from Japanese flower arrangement to rock gardening and the arcane costumes of Noh drama – all in their traditional contexts. And of course, there's Kyoto's sumptuous 'kaiseki' – the epitome of Japan's uber-refined cuisine.
Accommodation Options
Day 12
Kyoto
In the morning, attend a traditional Japanese tea ceremony. Later, take a coach tour to Nara to visit the splendid Todaiji Temple and its resident Buddha, the 16-metre-tall 'Daibutsu'.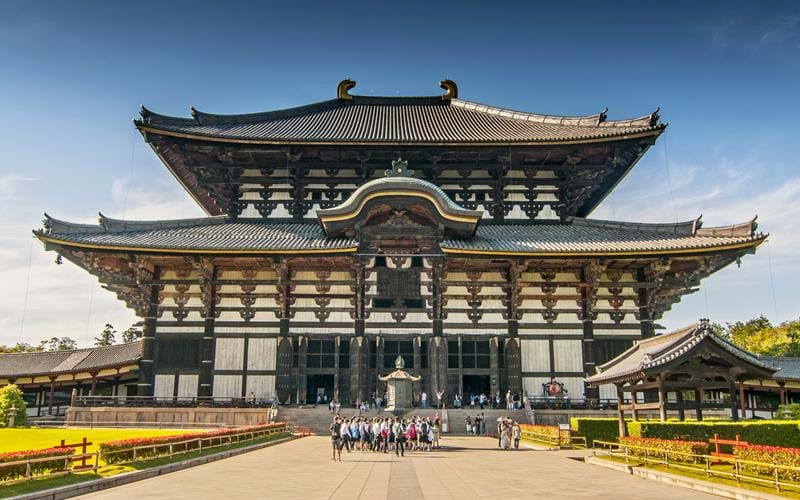 Nara ranks among the most charismatic cities in Asia, thanks to its extraordinary collection of antique buildings, many of which are more than a thousand years old. Its UNESCO-listed centrepiece is the spectacular Todai-ji Temple, home to a 500-tonne, 16-metre-tall, bronze-cast Daibutsu Buddha. The world's largest wooden building, the shrine now resides in a leafy park where sacred sika deer roam free, scrounging titbits off visitors. The nearby museum holds a hoard of precious antiquities from the 7th century Shosoin Treasury, a selection of which are exhibited for just a fortnight each autumn.
Accommodation Options
Day 13
Kyoto - UK
Time to bid farewell to Japan after breakfast as you travel to Osaka's Kansai airport for your return flight to UK.
Tailor-made Tour

13 days from £6860 per person
What's included

✓   International flights from London
✓   11 nights accommodation
✓   All internal transportation and transfers, predominantly using public transport
✓   English-speaking guides as listed in the tour itinerary
✓   Breakfast daily, lunch on day 3, 4, 5 & 11
✓   Entrance fees to sites and monuments as listed in the tour itinerary
Places and Experiences in this tour
Plan your Next Adventure
With the world now largely open again, now is the time to begin planning your next adventures in Asia. Our Travel Specialists are ready to take your call and discuss the adventure you have spent the last 3 years dreaming of.
Or call us on 0208 566 3739
TransIndus Brochures 2023
Join our mailing list